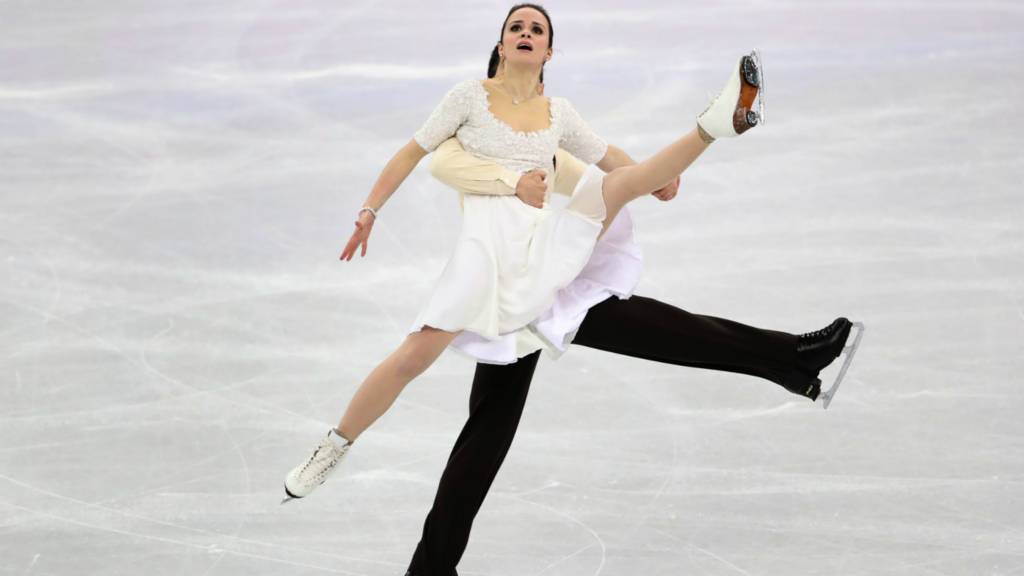 Watch Winter Olympics replay: Figure Skating
Particularly for those still stuck in The Office - we leave you with this ... Enjoy!

It's into the early hours over in South Korea and so here in the UK we are putting the live text updates to bed.

Don't forget you can still watch replays on BBC Two till 18:00 GMT and on Red Button until 23:59 GMT. You can also watch both at the top of this page by simply using the play button.

If you are just joining us, have a catch up with:

The whistleblower who made allegations of Russian state-sponsored doping says his "life is in jeopardy" and the Russian government want him to "stop talking".

See you tomorrow! Well, later today...

Ones to watch on day four

Image caption: Elise Christie goes for gold in the women's short-track 500m

There are eight gold medals on offer with all GB eyes on Elise Chrsitie in her bid to win her first Olympic medal.

Brit-watch:

08:30-09:45: Andrew Young lines up for his third Olympics
10:00-12:11: Triple world champion Elise Christie bids for short-track speed skating gold in the women's 500m
10:26-10:54: Team-mate Joshua Cheetham will make his Olympic debut in the 1,000m qualification rounds alongside Farrell Treacy
11:00-13:00: Annika Taylor will compete in the cross country women's individual classic

Other highlights:

Chloe Kim could bring more snowboarding success following the slopestyle gold won by fellow 17-year-old Red Gerard.

She is favourite in the half-pipe after posting a huge score in qualifying.

Natalie Geisenberger is favourite to defend her luge crown.

'I knew I was the only one who could decide it'

Biathlon: Men's 12.5km pursuit

Frenchman Martin Fourcade rediscovered his shooting touch to become the first athlete to defend an Olympic biathlon pursuit title in the 12.5km this morning.

It followed a disappointing performance in the sprint which saw him miss three of his 10 shots on the way to finishing eighth.

"It was really a strange feeling - I wasn't frustrated, I was disappointed. Yesterday I didn't understand why I missed three, I wanted this Olympic gold medal in the sprint more than any gold medal," Fourcade said.

"I took a bit more time than my opponent to shoot my first ammunition, then when I realised that I'd shot clean, I knew I was the only one who would decide who would be the Olympic champion."

Fuller fumes after slopestyle final - GB round-up

Aimee Fuller was the headline act for the Great Britain team on day three, but she will not want to be reminded of the women's slopestyle final.

The Farnborough snowboarder was one of several to suffer in the high winds at Pheonix Park.

She finished 17th and had a heavy crash on her second run.

Fuller said afterwards: "I don't think it was a a true reflection of women's slopestyle which is a shame for our sport."

There was some good news over on the skeleton track, as Laura Deas, defending champion Lizzy Yarnold and Dominic Parsons all posted fast times in their first training runs.

The bobsleigh starts on Sunday.

Wust is the best - day three round-up

Ireen Wust became the most successful Dutch Olympian of all time as she won the women's 1500m speed skating title at the Pyeongchang Games.

It was her 10th Games medal which also meant she became the most successful Olympic speed skater.

Frenchman Martin Fourcade brushed off his biathlon sprint disappointment to become the first man to defend the 12.5km Olympic pursuit title.

World number one Mikael Kingsbury held his nerve to win Olympic gold for Canada in the men's moguls.

Laura Dahlmeier became a double Olympic champion after winning the women's 10km pursuit.

And Canada produced a dominant performance to win gold in the figure skating team event.

That's all the medals wrapped up for the day then.

Norway now have two golds, and nine in total, but it's Germany who lead the way with four gold.

Ollie Williams

Commentator on BBC TV

NEW OLYMPIC SKI JUMP CHAMPION: MAREN LUNDBY!

1 Lundby (Nor) 264.6

2 Althaus (Ger) 252.6

3 Takanashi (Jpn) 243.8

Huge, huge jump - has been the best all season - proves you DON'T have to go and taper quietly in a corner to win an Olympic gold.

Gold Medal - Maren Lundby

Women's normal hill final

Massive!

Maren Lundby of Norway jumps 110m! She wins by 14 points in the end, a brilliant performance!

It's 10 to midnight in Korea - get the party started.

Jo Kidby: Watching the ladies ski jumping... How on earth do you find out you're good at that? Impressive and totally nuts. Love it!

Maren Lundby then. All or nothing.

Ski Jumping

Women's normal hill final

Katharina Althaus will have at least a silver medal - she's into gold medal position with just one athlete to jump!

Ski Jumping

Women's normal hill final

Katharina Althaus of Germany is held on the hill, and they have to move the gate too.

Pressure...

She likes it, and it's out to 106m!

Ski Jumping

Women's normal hill final

That looks big! Sara Takanashi of Japan is out to 103.5m!

Fourth in Sochi, is that a medal? Yes! At least a bronze...

Only two to go.

Ski Jumping

Women's normal hill final

She likes it! Stable as you like through the air, as Irina Avvakumova sails out to 102m and that puts her in the lead!

230.7 points.

Ski Jumping

Women's normal hill final

Daniela Iraschko-Stolz. Can she do it? Short, that's short and shes into second place.

'Just' 99m.

Ski Jumping

Women's normal hill final

Carina Vogt of Germany is next up - that looks big, it's close, close...

101.5m - not as far, but she leads thanks to style points!

Five to go.

Ski Jumping

Women's normal hill final

Massive!

Nika Kriznar of Slovenia sails out over 100m, that's 104m in fact and it's her into the lead!