Conor McGregor: New court date set for 26 July
Last updated on .From the section Mixed Martial Arts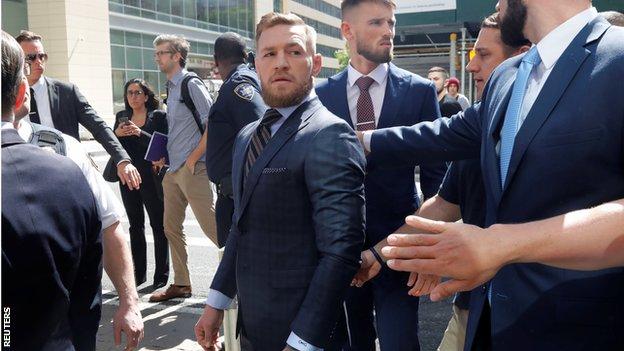 Mixed martial arts fighter Conor McGregor, who has been charged with assault and criminal mischief, will appear again at a US court on 26 July.
The Irishman, 29, made a brief appearance at Brooklyn Criminal Court on Thursday afternoon in New York, where the new date was set.
McGregor, who has not yet entered a plea, is on bail following an incident at a UFC media day in April.
Negotiations between his lawyers and the District Attorney will continue.
The former two-weight champion was one of a group alleged to have vandalised a bus containing rival fighters.
"I regret my actions that led me here today," McGregor said after Thursday's hearing.
McGregor, who was beaten by Floyd Mayweather in a boxing match in August 2017, has not fought in the UFC since knocking out Eddie Alvarez in November 2016.
Before Thursday's incident, he was stripped of his UFC lightweight title for being inactive.
McGregor is set to meet with UFC president Dana White on Monday.