Brock Lesnar: Former UFC heavyweight champion can return in January 2019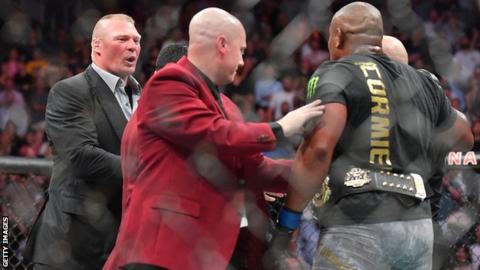 Former UFC heavyweight champion Brock Lesnar will be eligible to return from a drugs ban in January 2019.
The 40-year-old has re-entered the US Anti-Doping Agency (Usada) drug testing pool and can compete in UFC after his ban expires early next year.
Lesnar failed two doping tests in 2016 and then retired from the sport.
The WWE wrestler confronted new heavyweight champion Daniel Cormier at UFC 226 on Saturday, sparking speculation of a fight between the two.
Lesnar beat Mark Hunt at UFC 200 in July 2016, winning the $2.5m (£2m) purse.
But he failed a drugs test taken before the bout and another on fight night, and was then suspended from competition for a year by Usada, which administers the UFC's doping policy.
Usada said it has received notice of Lesnar's intent to return to UFC and he re-entered the testing pool on 3 July - meaning he must serve the remaining six months of his ban.
"Lesnar will be able to compete on or after January 8, 2019, should he remain in compliance with the UFC Anti-Doping Policy," Usada said in a statement,
Lesnar won the UFC heavyweight title in just his third fight for the promotion, beating Randy Couture in November 2008.
He defended the belt twice before losing it to Cain Velasquez in October 2010, and he lost to Alistair Overeem in December 2011 in his final fight before his 2016 comeback.