UFC 228: Darren Till hopes to end 15 years of waiting against Tyron Woodley
Last updated on .From the section Mixed Martial Arts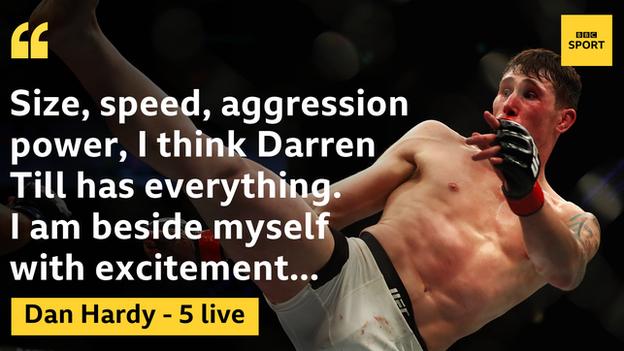 Woodley v Till
Venue:
American Airlines Center, Dallas, Texas
Date:
Sunday, 9 September
Time:
Commentary from 04:35 BST
Coverage:
BBC Radio 5 live commentary and BBC Sport website live-text service
Darren Till says he has the "same old niggles" as he bids to become Britain's second UFC world champion when he meets Tyron Woodley in the early hours of Sunday UK time in Dallas.
The Liverpudlian also played down fears over his ability to achieve a 12lb weight cut in two days.
"The fact is I am just better than Woodley," Till, 25, told BBC Sport.
"I feel like I can finish him off but if it's 10 seconds or five rounds, I will be ready for any outcome."
'What's going to happen when I'm in his face?'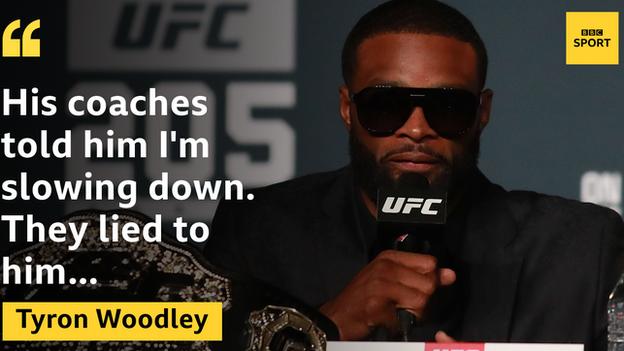 Till was criticised before his last fight when he came in overweight before victory over Stephen Thompson in his home city.
The 6ft 1in southpaw weighed 182lb on Wednesday, but came in one pound under the 170lb welterweight limit at Friday's weigh-in while Woodley registered 170lb.
American Woodley, 36, told BBC Sport Till's weight battle would be distracting for him.
"I'm only fighting one battle," Woodley said prior to the weigh-in. "I'm going to make weight. The amount of focus he's putting on that - he should be focusing on me.
"His coaches are telling him I'm slowing down. His game plan is based on me slowing down. What's going to happen when I get across the octagon on Saturday and I'm in his face? They lied to him."
Woodley has not competed in more than a year while Till scored a points win in May despite losing the bout on 22 of the 25 media scorecards.
But with 17 wins and a draw to his name, Till goes into the bout at UFC 228 in Dallas knowing he can emulate Michael Bisping in bringing a world title back to the British Isles.
A run of four wins in a row has developed his reputation, and a back story which includes him being stabbed twice before leaving the country at the age of 19 has only fuelled interest in him throughout the sport.
Some commentators believe Till is being pushed by the UFC and its president Dana White with a view to him becoming the face of the organisation.
"The UFC have no choice. It's Tyron Woodley's choice - he's the one getting in there," said Till.
"Dana White can't fight for him. Whether people say I'm getting a push, it doesn't matter. A fight is a fight.
"Fifteen years I've worked hard for a big historical moment in my life. I don't care about losing or getting knocked out. I'm not fearful to talk about my fears. I am confident to face everything head on.
"I've got the same old broken bones, broken hands - the stuff every fighter has but doesn't have the bottle to talk about. Every fighter goes into a fight 90% or 80% and if he goes in 100% he hasn't trained right. Every day I'm punching hard, my hands are hurting.
"Nothing is keeping me out of that fight, it never will."
Analysis - 'This will be a back-and-forth tussle'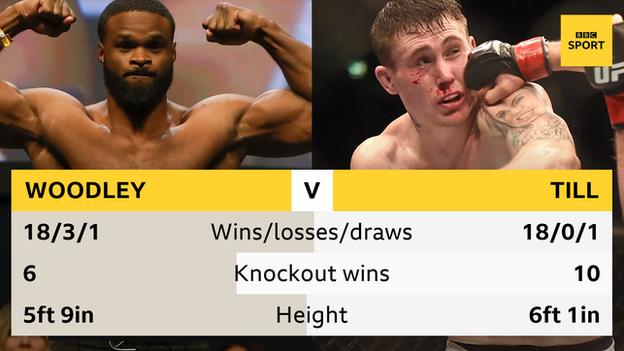 Former UFC world title challenger Dan Hardy, who will be part of BBC Radio 5 live's team in Dallas:
I am beside myself with excitement for this.
Size, speed, aggression, power - I think Darren Till has everything.
I think the British contenders we have now will have a far more rounded game than in the past as MMA is more accessible. I really genuinely think Till has a chance to take this belt and hold it for a long while, which is most important as a champion.
I think what will surprise Woodley is the pressure he will be under from Till, who will be the more aggressive, forcing Woodley to work and making what will definitely be his hardest fight to date.
But you also look at Till's record and it's hard to find anyone that looks remotely like Woodley in terms of style. Till does expose himself to danger and I think that will make this very back and forth.