Darren Till v Tyron Woodley: Is Till the next big thing in the UFC?
By Nick Peet
MMA reporter in Dallas
Last updated on .From the section Mixed Martial Arts50
Woodley v Till
Venue:
American Airlines Center, Dallas, Texas
Date:
Sunday, 9 September
Time:
Commentary from 04:35 BST
Coverage:
BBC Radio 5 live commentary and BBC Sport website live-text service
On Saturday night in Dallas, Darren Till has the chance to become the UK's poster boy of mixed martial arts, and one of the biggest fight-sport stars on the planet.
Not bad for a 25-year-old who, just a couple of years ago, was nursing stab wounds on a one-way flight to Brazil.
Love it or loathe it, mixed martial arts is a sport for this social media and reality television age, and the Ultimate Fighting Championship (UFC) is like the X Factor and Britain's Got Talent rolled into one.
You could even compare its president, Dana White, to head judge Simon Cowell, though the latter is blessed with much more hair.
The UFC, by design, is a sporting superstar factory, churning through athletes from across the globe in search of its next pay-per-view main event.
For every Ronda Rousey, Georges St-Pierre or Conor McGregor, you'll find thousands of practitioners of the sport all chasing the same dream - a UFC championship belt.
But it takes far more than just talent in the fighting arts to become a champion in the world's foremost MMA promotion.
You need the elusive X-factor, too; the ability to hold a room in the palm of your hand, to engage an audience through social media, and to attract fans and sponsors to box-office events in their droves.
WME-IMG, now rebranded as Endeavour, bought the UFC for $4bn (£3.1bn) - the same price Disney paid George Lucas for Star Wars - little over two years ago. You'd better believe they want a return on their investment.
Multi-millionaire McGregor is comfortably the most successful mixed martial artist in the 25-year history of the sport. Yet he's far from the most talented fighter on the roster. In fact, he may not even be the best in his current weight class.
But, in prize fighting, celebrity has a value that goes toe-to-toe with ability. If you have the right ingredients required on the UFC checklist of superstar potential, you can expect to be fast-tracked past athletes with a decade of experience without so much as a cursory jab.
This weekend, Till will become only the third Briton to fight for UFC gold. It's one of the most rapid rises to title contention in UFC history - in just his seventh bout, Till gets the opportunity to become champion of the world.
It's not because the UFC is short on contenders. The 170lb weight class is one of the busiest and most talent-packed in the game.
But Till has been meticulously groomed for this moment, most probably since his UFC debut three years ago. Having stepped in at nine days' notice in Brazil, he won in sensational fashion, then broke off from his native Scouse twang into fluent Portuguese during a victory speech that sent social media into overdrive.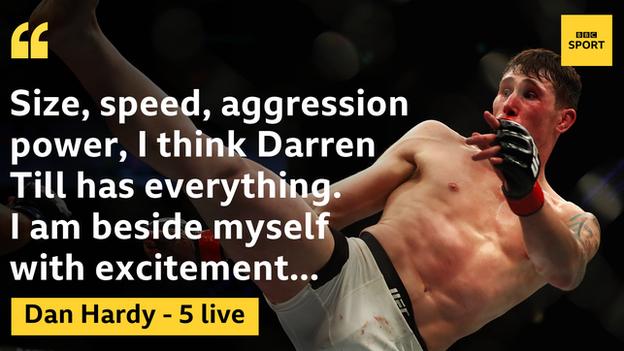 Back then, Till had fewer than 8,000 followers on Twitter and Instagram. He now boasts well over half a million.
Like most social media celebrities, he's handsome, of course, but it's his inner-city roots that attract followers perhaps even more rapidly than his athletic pursuits. With no management-imposed filter, his bad-boy identity is free to run wild.
After being stabbed in a Liverpool nightclub aged 19, Till was put on a one-way flight to Brazil by his coach to escape the distractions of home.
The plan was for a six-month foray, but it was almost four years until he returned home. That's a measure of the man's persistence and mentality.
The Englishman may be relatively new to the sport's upper echelon, but his personality and ability have attracted the attention of the fans, and White, who - during a recent training camp in Las Vegas - could not stop himself watching 'The Gorilla' prepare for battle.
Like McGregor, the talent is there, too. Till's 15 years of Muay Thai training ensure that, as does a head coach who demands nothing short of blood and tears on a daily basis.
But it's the whole package that meant Till went from four-fight UFC novice to a headline spot against a former world title contender in Gdansk last October.
Fan favourite Donald 'Cowboy' Cerrone took the late-notice switch of opponent in his stride. It was almost like he was the last to know as Till tore him apart inside five minutes.
The reward? A shot at number one-ranked Stephen 'Wonderboy' Thompson in Liverpool in May.
Roared on by the home support, Till rubber-stamped a points victory with a late bludgeoning knockdown that torpedoed him into this weekend's Dallas headliner.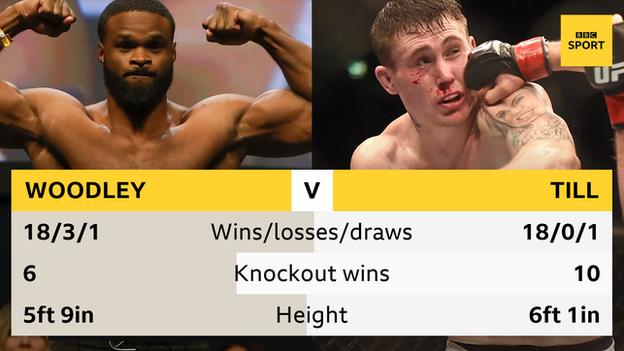 His opponent - Tyron Woodley - isn't the champion the UFC needs or possibly wants. He's a 36-year-old local community leader, a family man, a TV analyst, and a throwback to the former US college wrestler-turned-fighter that, for a considerable time, dominated the sport.
He hasn't fought for more than a year and likes to complain about the lack of respect and dollars he says he is afforded by the company.
He wants to pick his opponents rather than take on the next contender in line, and is all too often an outspoken thorn in the backside of UFC bosses.
Woodley hits thunderously hard and is single-minded in his determination to remain on top. Typically, he's aggrieved how Till has stolen his attention this week.
But the Liverpudlian could become only the second Briton in history to claim UFC gold.
Unlike predecessor Michael Bisping, who is based in California, Till lives and trains in the UK. That makes him far more valuable a commodity to growing the brand and the sport in his homeland. Graham Norton and A Question of Sport are on standby.
But there is no public vote to ensure victory inside the octagon.
Till has the opportunity to follow McGregor in superstar status, but it is likely he will have to do it the hard way on Saturday.
Should he emerge with the belt, the celebrations will spread much further than his home city, or even the UK.
One expects a glass of bubbly or two will be poured at the UFC's headquarters in Las Vegas too.