Nurmagomedov v McGregor: How does UFC move on from ugly scenes in Las Vegas?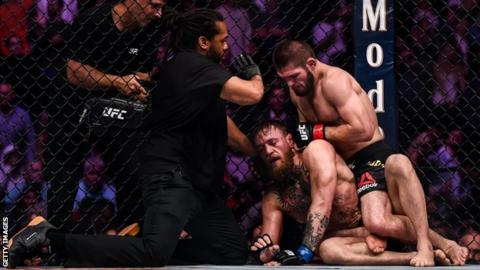 It should have been a showcase of mixed martial arts excellence, but UFC 229 in Las Vegas transformed from being a spectacular night of MMA to one of the most controversial events in UFC history, after violent skirmishes broke out following Khabib Nurmagomedov's victory over Conor McGregor.
The ugly scenes have drawn global headlines and shone a spotlight on the sport of MMA for all the wrong reasons.
It begs the question: what happens next?
Is any publicity good publicity for the UFC?
From failed drug tests to weigh-in mishaps and untimely injuries, the UFC has demonstrated a remarkable ability to bounce back from setbacks and keep moving forward. But this one, coming so soon after McGregor's attack on a UFC minibus in Brooklyn, is a much trickier problem to navigate.
Once McGregor's legal issues from that incident had been dealt with, the bout with Nurmagomedov was booked almost immediately, and footage of the bus attack featured prominently as part of the promotion leading up to the event. In doing so, the UFC effectively invested in the incident the organisation's president Dana White had previously slammed as "disgusting".
To continue that narrative by booking an immediate rematch may generate the greatest financial return in the short term, but it may also serve to indirectly legitimise the antics of both McGregor and Nurmagomedov, who between them have been responsible for two of the most unsavoury incidents in UFC history within the space of just a few months.
If there is a silver lining it's the fact that, after a modest start to the year, the explosion in notoriety from the event could also lead to more people tuning in when the likes of Jon Jones, Brock Lesnar, Anderson Silva, and possibly Georges St-Pierre return to action in the New Year. Following the scenes of Saturday night in Vegas, the UFC needs its other stars to step up more than ever.
And, of course, there's McGregor's next bout. But we'll talk more about that a little later…
Is MMA's reputation across the world damaged as a result?
Mixed martial arts and its fans have fought a long, drawn-out battle for legitimacy in different parts of the world. The sport remains banned in France, and in other countries it still faces a fight for mainstream acceptance and legitimacy, including here in the UK, where it still hasn't been fully embraced by the mainstream media.
Scenes like the ones we saw at UFC 229 don't belong in any sport, even one as gritty and physical as mixed martial arts, and only serve to fuel the fire of those who question the sport's legitimacy.
But, prior to Nurmagomedov's moment of madness, UFC 229 delivered a thrilling night of fights that showcased the very best in MMA.
An entertaining women's bout featuring a victory for one of the best role models in the sport, Michelle Waterson, kicked off the pay-per-view broadcast, while fan favourite Derrick Lewis scored a dramatic last-gasp, come-from-behind knockout to push his claims for a shot at the heavyweight title.
We saw a new light-heavyweight contender emerge as former NFL hopeful Dominick Reyes defeated seasoned veteran Ovince St-Preux, and former interim lightweight champion Tony Ferguson completed a remarkable comeback from knee surgery to defeat former world champion Anthony Pettis after a blistering battle in the co-main event.
And Nurmagomedov himself produced a brilliant performance to submit McGregor and cement his position as the world's premier lightweight fighter. His dominant display over the Irishman should have been the talking point of the night.
Instead, it took the Russian just a matter of seconds to turn his victory - and those of his fellow fighters on the card - from a headline to an afterthought.
Is trash talking going too far in the UFC?
MMA and boxing have had a long history of their competitors engaging in mind games, showmanship and trash talk. Muhammad Ali was the master at it, Chris Eubank Sr excelled at it and Floyd Mayweather has become a multi-millionaire several times over because of it. Conor McGregor is no different.
When McGregor launches into pre-fight trash-talk mode, he's trying to pick holes in his opponent's armour. And with Nurmagomedov being a stoic character, the Dubliner knew he had to get personal to get inside the Russian's head. It worked, but rather than knock him off his game, it simply lit a fire inside "The Eagle", whose pent-up anger finally came out at the conclusion of Saturday's bout.
Nurmagomedov's post-fight argument that trash talk should steer clear of nationality and religion is certainly valid, and the UFC may benefit from publishing a public code of conduct that clearly sets out the boundaries of what's acceptable and what isn't when promoting a fight.
It wasn't Conor's trash talk that sent Khabib over the cage and into McGregor's corner, but it was certainly a contributing factor behind the bad blood.
And what now for McGregor?
Despite his defeat, McGregor's immense star power means he has options.
Some have suggested an immediate rematch with Nurmagomedov. But given the dominant, decisive nature of the Russian's win - and considering the ugly scenes that followed - the UFC may be better served taking a different, less inflammatory, route.
A trilogy bout with old rival Nate Diaz would generate similar excitement and anticipation among the fans. And with the pair holding one win each after their first two bouts, a decider might just be the best option for McGregor and the UFC.
Other alternatives include Canadian superstar and former two-division world champion Georges St-Pierre, who has hinted at a possible return as a lightweight.
And if Nurmagomedov ends up being suspended and stripped of his title, it's not out of the question that we could see McGregor's next bout being contested for the lightweight title once again.
His most likely opponent in that scenario would be former interim champion Tony Ferguson, whose six-year, 11-bout win streak demands the next shot at the gold.
And (whisper it quietly) there is always the option of a return to boxing ring…
Whoever McGregor fights next one thing is certain. The eyes of the sporting world will be watching.