Khabib Nurmagomedov: Vladimir Putin asks UFC world lightweight champion's father to go easy
Last updated on .From the section Mixed Martial Arts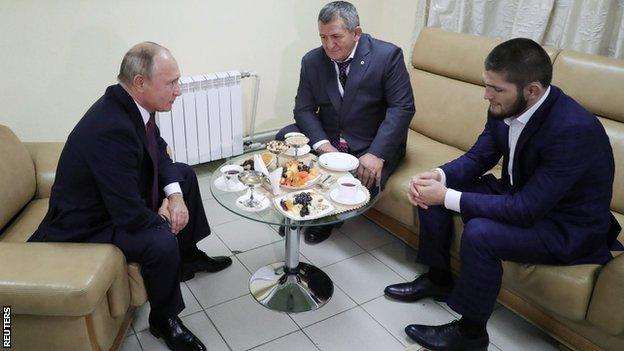 Russia president Vladimir Putin has asked Khabib Nurmagomedov's father "not to punish him too severely" for his part in a brawl which followed his defeat of Conor McGregor in Las Vegas.
Nurmagomedov retained his UFC world lightweight title and then jumped the octagon fence to fight McGregor's team.
The Nevada State Athletic Commission, which sanctioned the bout, has withheld his fight purse while it investigates.
UFC president Dana White says he should keep his belt, even if he is banned.
Nurmagomedov's father said after the fight he "will impose a punishment tougher than the UFC's", adding: "I warned him. For me, discipline comes first."
But in a meeting between the trio on Wednesday, Putin asked Abdulmanap Nurmagomedov "not to punish him too severely" for the brawl.