Floyd Mayweather v Khabib Nurmagomedov fight 'should happen in UFC'
Last updated on .From the section Mixed Martial Arts121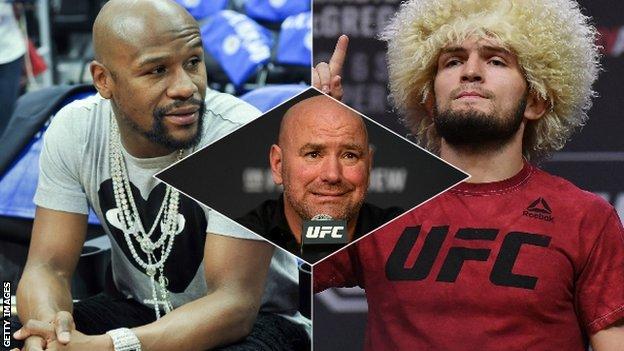 Boxer Floyd Mayweather should step into the octagon to face Khabib Nurmagomedov in a "real fight", says UFC president Dana White.
UFC lightweight champion Nurmagomedov has suggested he could follow in Conor McGregor's footsteps and try boxing, with Mayweather encouraging the bout.
But White wants to see the fight happen in a mixed martial arts arena.
"Listen, if Mayweather wants to fight, come fight. You fight in the UFC," White told TMZ.
"We're not boxing again. We did that once, that's over. You want to fight? You come fight - a real fight."
Nurmagomedov and Mayweather's exchange began with the Russian calling out the former five-weight world champion after defeating McGregor on the Irishman's return to UFC earlier this month.
Mayweather beat McGregor himself in August 2017 in a fight that generated more than £450m and earned the 41-year-old American £210m.
The boxer told Nurmagomedov to "come into my world", with the 30-year-old responding by saying he was keen for the bout to happen in Moscow.
Nurmagomedov is currently serving a ban issued by the Nevada State Athletic Commission as it investigates the brawl that followed his world title win over McGregor.
And UFC president White says he should face American lightweight Tony Ferguson on his return.
"Tony Ferguson is the right fight," he added. "It's the fight to make. It obviously depends on the suspension and what happens - we'll see."