UFC 230: Daniel Cormier warns Brock Lesnar to 'stay out of the octagon'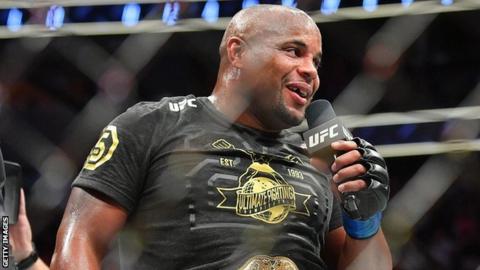 Heavyweight champion Daniel Cormier warned Brock Lesnar to "stay out of the octagon" as he prepares to defend his title against Derrick Lewis at UFC 230.
American Cormier, 39, challenged former champion Lesnar to a fight following his title win at UFC 226.
Cormier, who is unbeaten in heavyweight fights, is the second UFC fighter - after Conor McGregor - to hold titles in two divisions at the same time.
UFC 230 takes place in New York at 02:00 GMT on Sunday.
Cormier, who said Lesnar would be at the fight at Madison Square Garden, added: "This time I would advise him to stay out of the octagon.
"Last time, he pushed me across the cage, and I hate that visual. This time, I will buckle my heels into the mat.
"I'll be ready to push him or hit him upside the head."
Lesnar, who held the UFC heavyweight title in 2008, has not competed inside the octagon for two years.
On Friday, he won the universal title in the scripted world of WWE, where he has performed for the majority of the past six years. However, he is reported to have begun the process to rejoin the UFC drug-testing pool before a return next year.