UFC 231: Max Holloway returns after turbulent 12 months to face Brian Ortega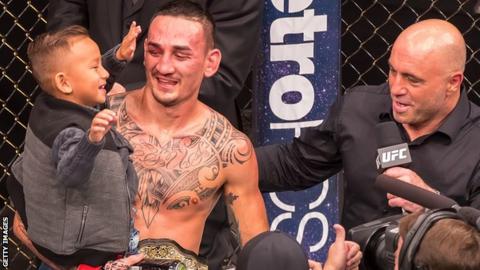 Max Holloway returns to the octagon on Saturday for the first time in more than a year, after a turbulent period in his life that led him to cut himself off from "the whole world".
"It's been a tough year," says Holloway, who defends his featherweight title against undefeated number one contender Brian Ortega at UFC 231.
Having won and retained the 145lb title last year, the Hawaii-born fighter has twice been pulled from fights in 2018.
In April, after stepping in at six days' notice to face Khabib Nurmagomedov for the lightweight title, Holloway was withdrawn because of weight-cutting complications.
Three months later, 'Blessed' was scheduled to defend his featherweight crown against Ortega at UFC 226 - but was again pulled from the card late on, this time with "concussion-like symptoms".
Here he tells BBC Sport about dealing with depression, his admiration for heavyweight boxer Tyson Fury, a potential rematch with Conor McGregor, and his goal to be the greatest pound-for-pound fighter ever.
'It's not how you start the race, it's how you end it'
"I feel great, I look great, everything is great."
Holloway, who spent his 27th birthday on Tuesday training and fulfilling UFC media obligations, is evidently in good shape as he prepares for Saturday's fight in Toronto.
But he concedes he has had "tough times" in the past 12 months.
"I wasn't talking to anyone," he says. "I cut myself off totally from the whole world. The only people who had contact with me were people who had my house key, but if they came over, I wouldn't talk to them. I would just leave."
This is the first time the Hawaiian has struggled with his mental health, and he says friends and family - including six-year-old son Rush - played a crucial role in his recovery.
"I spent a lot of time with my son," he says. "He is awesome. He has got too much personality. 'Mini-Blessed' can get a bunch of people out of any state.
"To get out of that state, you need to start reaching out to friends and family. These people are there to help you.
"I have a great team behind me, great coaches and great team-mates."
Saturday's fight will be Holloway's first appearance in an octagon since 2 December 2017, but he says: "It's not how you start the race, it's how you end it. I am about to finish strong".
As well as those close to him, Holloway found inspiration in the recovery of another fighting superstar - heavyweight boxer Tyson Fury.
Briton Fury slogged his way to a draw with WBC heavyweight champion Deontay Wilder in his third fight back after a 30-month absence.
Speaking after the fight, Fury said he had "fought back from thinking about suicide, mental health, depression and anxiety" and wanted to "show the world it can be done".
Holloway says: "The dude is an inspiration, for sure."
'I want to be the greatest ever'
Holloway takes a 12-fight winning streak into Saturday's contest, and while he has no doubt he will extend that, he has respect for the fighting style of his undefeated opponent.
"You fight until somebody gives up," he says. "That's the way he fights. I can't wait.
"This is a fighter's fight. People always try to do fantasy match-ups, like 'I wish this guy would fight that guy'. Well it's here... two young kids in their prime."
Holloway's focus is firmly on Ortega, who is also 27, but his longer-term goal is to be "the number one, greatest ever".
"One of my biggest goals was to be a champion, the next was to be a defending champion, and we're coming up to the second defence," he says.
"After that, I want to be the number one pound-for-pound in the world."
And what of McGregor?
Holloway's last defeat in the octagon was back in 2013, against Conor McGregor.
He does not know if he will ever get the chance for revenge against the Irishman, who was beaten by Nurmagomedov in October on his return to UFC after fighting boxer Floyd Mayweather last year.
But he has a message for McGregor: "If you want to be the best, the greatest again, then we're going to cross paths."
And Holloway believes he has a long, successful UFC career ahead of him.
Whether that continues to be in the featherweight division, or in the talent-stacked lightweight division, the Waianae fighter predicts that 12 months from now, it will still be "Max Holloway - the reigning, defending champion".