Jamie Cooke 'surprised' by achievements in 2011
Last updated on .From the section Modern pentathlon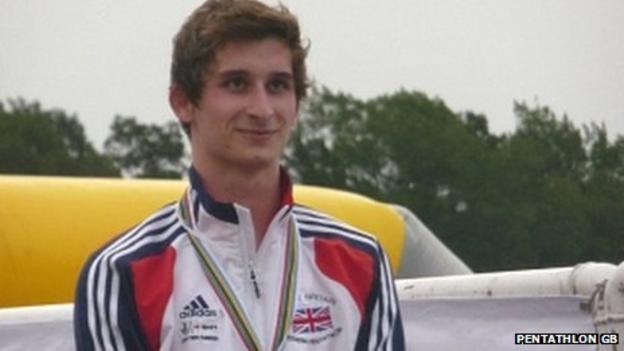 Jamie Cooke says he has been "surprised" by his success this year.
He has now climbed to second in the junior world rankings and 14th in the senior standings.
"It's a surprise, I admit, but it comes through hard work," Cheltenham's Cooke told BBC Gloucestershire.
"This year has been a phenomenal leap for me to get into the top 15. I've learnt a lot and I feel like I've matured as an athlete immensely."
Cooke, who is based in Bath, proved his swimming credentials by breaking 200m freestyle world records in three successive swims over the summer, but admits he needs to improve in other areas next year.
"My combined event - shooting and running - has started to click recently and I've got a lot of confidence in it," said Cooke. "I've sat down with my coach and worked on some little bits - we've brought out a good rhythm and technique to it.
"Fencing is going to be one of my big aims because that's where I'm weakest on the international stage.
"The top guys have got years of experience at fencing. They're 25 to 28 and they've been doing it for around eight years. You just have to keep working at it and challenging yourself."
Although he has qualified for next year's Olympics, there is still no guarantee Cooke will handed one of the two male places on offer for the Great Britain squad.
"The competition to reach the Games is fierce - no one wants to be left behind," he added.
"Every athlete's dream is the Games. I was saying 'I want to go to London' but everyone said 'you're too young, aim for Rio'. It has come as a bit of a shock to have qualified.
"I'm more scared about the team selection. Once that's out the way you can really knuckle down and focus."