Cooke takes gold & Spence bronze in modern pentathlon World Cup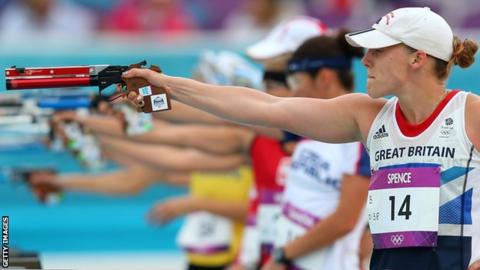 British modern pentathlete Jamie Cooke took gold at the World Cup in Budapest, following Mhairi Spence's bronze medal earlier on Sunday.
Cooke, 22, who won the 2011 World Junior Championships in Argentina, had to come back from 24th position after the first discipline, fencing.
Sam Weale finished sixth in his first World Cup since London 2012.
"This was my first World Cup medal, so I'm so happy. My shooting was definitely the key today," said Cooke.
"I never thought I would do this after the fencing this morning, but I had a good swim, a good ride and a good combined."
Cooke went into the combined run/shoot in fourth, 21 seconds behind event leader Adam Marosi, Hungary's world number two and the bronze medallist at London 2012.
Cooke overhauled him on the third visit to the shooting range, using just six shots to hit the five targets, eventually finishing 10 seconds clear of Marosi.
Spence, 27, had struggled since being crowned world champion in Rome 12 months ago but she gave a consistently strong display in Hungary.
"Really chuffed with a bronze medal today," Spence said on Twitter.
"It's been a year since I stood on a podium, and boy did it feel good. Great way to lift your soul."
Spence was distraught to have finished 21st at London 2012 and was 33rd in her only other World Cup outing of this year, in Rio.
But she won her semi-final on Thursday and was joint leader of Saturday's final going into the decisive run/shoot, eventually finishing 14 seconds clear of Hungary's Leila Gyenesei to take bronze.
Ganna Buriak headed a Ukrainian one-two for her second successive World Cup gold, with team-mate Victoria Tereshuk taking silver. Britain's Katy Burke was 22nd.
Pentathlon GB performance director Jan Bartu said: "Mhairi really produced a competitive performance and she deserved third 100%.
"It's 12 months since she won her World Championships and this was another exciting day."
Olympic silver medallist Samantha Murray had missed out on the final after finishing 23rd in her semi-final.