Jamie Cooke surprised by shooting record at World Cup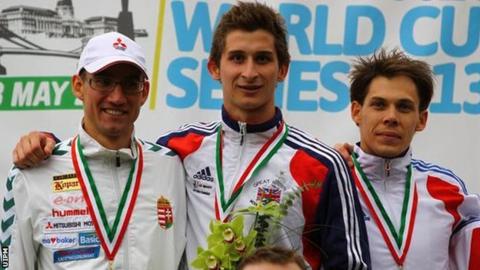 Jamie Cooke has admitted he was surprised to claim a modern pentathlon world record in shooting while on his way to winning World Cup gold.
The Bath-based 22-year-old hit the target five times in 8.22 seconds to set a new mark in Budapest.
Cheltenham's Cooke now has three records, his fastest single-heat shoot adding to the times he holds in the 200m swim in both 25m and 50m pools.
"It watched it back and I'm not sure how I did it," said Cooke.
"It was a bit of a shock. It just all seemed to click and it was very fast which was brilliant.
"I didn't mean to do it. The swimming has always been my strong point, so to take it in to the shooting is really good."
Cooke, ranked 40th in the world, fought off competition from Olympic bronze medallist Adam Marosi to claim his first ever medal in a World Cup series.
He went into the run/shoot in fourth, 21 seconds behind world number two Marosi, but overhauled the Hungarian on the third visit to the shooting range.
Cooke left the range for the last time with a nine-second lead over his rival and crossed the line 10 seconds clear of second-place Marosi.
"I've been working a lot on my running recently as I think that's one area I can really improve," Cooke told BBC Gloucestershire.
"I managed to sit on Adam's shoulder for the first two laps quite comfortably and the shooting seemed to click.
"I was in a good rhythm, which is key. You've got to be like a robot and do the same thing five times, or maybe six or seven."
The fourth World Cup was the last opportunity for athletes to score enough points to qualify for the final, which takes place at Nizhny-Novgorod in Russia from 31 May to 2 June.
And Cooke, the 2011 world junior champion, admitted: "I'm really worried as I'm going in as a big favourite now.
"I just want the competition to go well and I've got some targets I want to focus on, so it's about putting the pieces together.
"I'm mainly concentrating on Europeans and Worlds. I'm going to go out in the World Cup final and just experience it."