Modern Pentathlon: Jamie Cooke upbeat for World Championships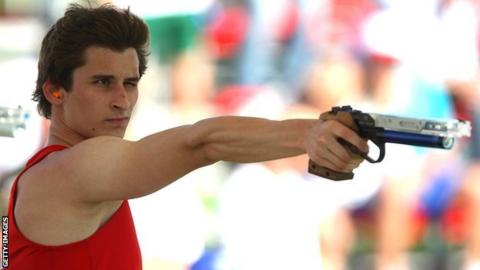 Pentathlete Jamie Cooke says his World Cup gold earlier in the season will give him confidence at the forthcoming World Championships in Taiwan.
The 22-year-old endured a disappointing 2012 campaign after finishing 33rd at the Worlds in Rome and failing to make the team for the London Olympics.
But a surprise victory in the World Cup series in Budapest in May has put him in good shape for the Championships.
"Budapest gave me a massive confidence boost," he told BBC West Sport.
"I think I was more shocked than anyone else. Last year didn't go that well so to come out in Budapest and perform like I did, I was really pleased.
"The World Championships are the highlight of the sporting calendar for us so I can't wait. I just want to go out there, have fun and work on the things I want to work on."
Cheltenham-born Cooke has jumped to seventh in the world rankings since his win in Budapest, which was the first World Cup medal of his career.
He went on to earn a team bronze, alongside Joe Evans and Sam Curry, at last month's European Championships in Poland.
The World Championships start on Thursday, with Cooke in a British men's team also including Sam Weale, Nick Woodbridge and Evans, who are all based in Bath.
With 13 appearances at the World Championships between them, Olympians Woodbridge, 27, and Weale, 31 have far more experience than Cooke and 19-year-old Evans.
But Cooke says a mixed age range within the group has worked to his advantage.
"The older guys are brilliant and always help me out in competitions," he said. "I learnt a lot from just following them around the Olympic games.
"But now the younger guys are all coming through so they're keeping me on my toes. We have a really good training group at the moment and we really push each other.
"The guys are pushing me, and I'm pushing myself, so hopefully we can do well at the worlds."