Heather Fell announces retirement from modern pentathlon
Last updated on .From the section Modern pentathlon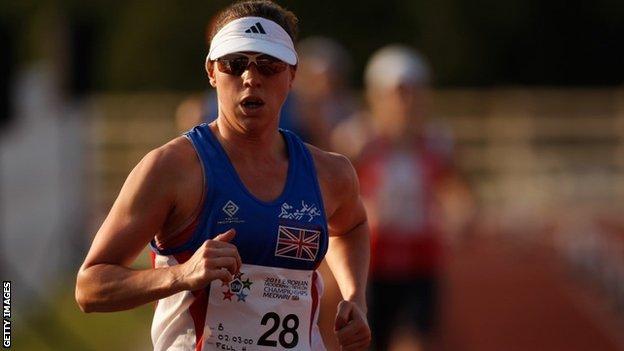 Olympic silver medallist Heather Fell has announced her retirement from modern pentathlon at the age of 30.
"It's been difficult. Retiring from sport is never easy but it's time to focus on new challenges and new things in my life," she told BBC Radio Devon.
Fell is pursuing a media career and has worked as a reporter with the BBC.
"It's something I'm still finding very difficult in terms of the transition but the decision wasn't entirely in my hands," she added.
"I reached a stage where I just missed out on London 2012 but I had the amazing peak of Beijing in 2008, and it's time to do new things."
Fell, from Tavistock in Devon, failed to qualify for London 2012, losing out to Mhairi Spence and Samantha Murray with just two places in the Great Britain team available.
But Fell will always be remembered in her sport for her silver medal behind Germany's Lena Schoneborn in Beijing, while she also won the European Championships in 2007 as well as gold at the 2008 and 2012 World Cups and silver in the 2009 and 2010 World Championships.
Fell has taken to road cycling as a way of staying fit, and completed a Land's End to John O'Groats ride last summer.
"It's a target and something for me to get my teeth into," she added.
"Having been an athlete for so many years you really need that driving factor to get up in the morning and to do things. Obviously I know that's not going to be my job but it will balance nicely in my life going forward."
Pentathlon GB performance director Jan Bartu paid tribute to Fell's achievements over the years.
"I'd like to wish Heather all the best for the future," he said.
"Her successes from her time as a junior up to Olympic, World Championships, World Cups and European Championships speak for themselves. It will be sad to see her go.
"Heather has been a very strong athlete and in many ways her competition performances often exceeded expectations from training. That's almost unique, it's something not many athletes can do.
"I would never underestimate Heather's desire and will to succeed, which have been inspirational."