Modern pentathlon: GB women target European gold
Last updated on .From the section Modern pentathlon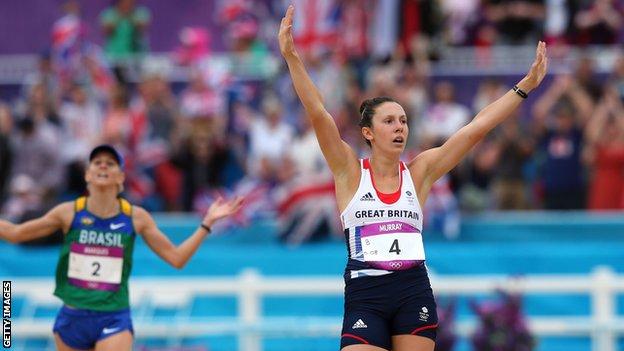 British modern pentathlete Kate French believes the current strength in depth of the GB squad is pushing them to new heights.
The 23-year-old is part of the team for the European Championships in Hungary, which start on Thursday, 10 July.
"You're always trying to beat them in training so it keeps the standard higher - it keeps everyone on edge," French told BBC Sport.
She is joined in the squad by the 2012 world champion Mhairi Spence, London 2012 silver medallist Samantha Murray and Freya Prentice, who finished fourth at last year's Europeans.
French won European Team gold alongside Spence and current British champion Murray last year, but her team-mates are also among her toughest competition.
As well as battling each other for medals in Hungary, the current crop are also vying for just two Team GB places at the 2016 Olympic Games in Rio de Janeiro - even if all four reach the Olympic qualification standard.
Great Britain Modern Pentathlon Team

Women
Men

Kate French (23, Gravesend)

Samantha Murray (24, Clitheroe)

Joe Choong (18, Orpington

Nick Woodbridge (27, Telford)

Mhairi Spence (28, Inverness)

Alice Fitton (19, Atherton)

Jamie Cooke (23, Cheltenham)

Sam Curry (20, Salford)

Freyja Prentice (23, Aberdeen)

Jo Muir (19, Dumfries)

Joe Evans (20, Whitchurch)

Tom Toolis (21, Hornchurch)
"It does get quite tough sometimes," added French, "because you're all fighting for the same spot."
French is Britain's highest ranked modern pentathlete, lying sixth in the world after a fourth-place finish at the World Cup final in Florida in June.
Come the European final on Saturday, the Bath-based athlete will be aiming for her first individual podium finish.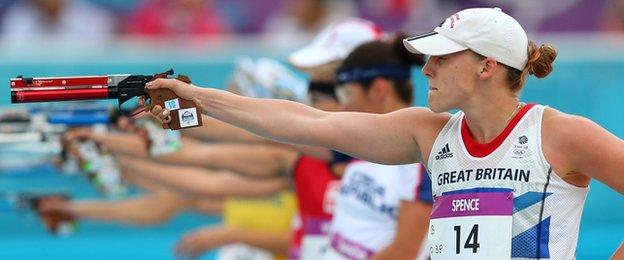 In the men's competition, double Olympian Nick Woodridge will compete internationally for the first time since winning silver at last year's World Championships in Chinese Taipei.
Woodridge has been recovering from a hip injury, and had surgery in February.
"This year has really been quite difficult," he said. "I'm in quite good shape, but I'm not quite 100% at the moment.
"It will be a bit of a warm-up for the World Championships in September."
The women's heats will be held on Thursday, with the first round of men's competition taking place on Friday, with 36 men and 36 women qualifying for the finals on Saturday and Sunday.