Modern pentathlon: GB men ninth in European Championships
Last updated on .From the section Modern pentathlon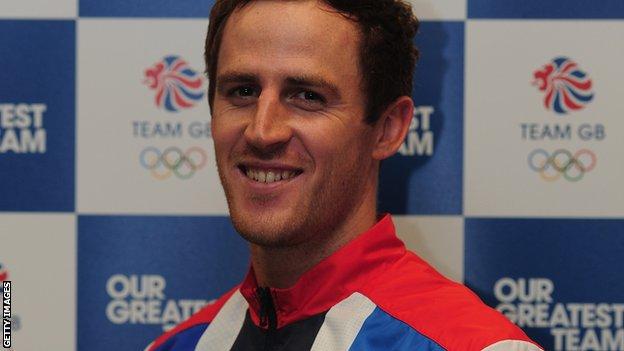 Great Britain's men finished ninth in the modern pentathlon team event at the European Championships in Hungary.
The team - made up of Nick Woodbridge, Joe Evans, Jamie Cooke and Joe Choong - were never in serious medal contention.
Hungary won the event followed by Italy and the Czech Republic, with Russia's Aleksander Lesun winning the individual event from compatriot Ilia Frolov.
Evans was 13th, Woodbridge 29th and Choong 36th, while Cooke failed to make the final.
The fact that Cooke missed out on the final ultimately proved costly for Britain because of the way the event scores are calculated.
Under the competition rules, a country must nominate in advance three of their four athletes to count towards the team score - and Britain went with Cooke and Evans alongside Woodbridge, who competed in the 2008 and 2012 Olympics.
Pentathlon GB performance director Jan Bartu said: "This was one of the most intense European Championships finals I have ever experienced.
"There were no weak athletes and from the first fencing match everyone had to battle for every single point."
Bartu was pleased with the efforts of Choong, competing at his first senior international.
He said: "Joe was absolutely outstanding in the swim, had a decent ride and held his own in the combined event. He is young but he has shown he is a great competitor under pressure.
"Nick swam and rode well, and was holding his own in the combined event, but he struggled towards the end."
Modern pentathlon features fencing, swimming, show jumping and a combined run/shoot.