Modern Pentathlon World Championships: Samantha Murray may quit after Cairo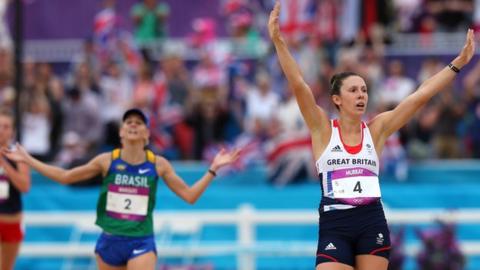 London Olympic silver medallist Samantha Murray admits she could quit the sport after the World Championships in Cairo, Egypt, this week.
Murray, 27, took a six-month break from modern pentathlon after finishing eighth at the Rio 2016 Olympics, only returning to training in January.
She finished a "disappointing" 14th at the European Championships in July.
"It [the World Championships] will be a big deciding factor in whether I carry on," she told BBC Sport.
Cairo 2017 will be Murray's fifth World Championships, having won gold at the 2014 edition in Warsaw, Poland.
She is part of an eight-strong British team for the competition, with the women's qualification round taking place on Friday before the finals on Sunday.
The pentathlete admits she became "quite unfit" during her break from the sport and that returning made her realise some of the major sacrifices that would be required were she to continue through to the Tokyo 2020 Olympics.
"I'm by no means the oldest in the field, but I have to ask myself whether I want to give all of my time to it as there are so many things that I'm looking forward to in my future," she said.
"After Rio I needed a break and it was great to spend time seeing friends and family, but returning isn't something you can do without a major commitment.
"You take it home with you every day and cutting down on food sizes and even having a drink is something that becomes harder."
Murray, who became British champion in June, admits the heat during the competition in Egypt is likely to make conditions "very tough" but insists her result will not be the determining factor regarding her future.
"It'll be about how I feel whilst competing," she said. "Is my head in the right place, am I enjoying it, is this what I want to do for the next three years?"
She is joined in the British women's team by Joanna Muir, Rio Olympian Kate French and Francesca Summers.
The GB men's team - who compete in their qualification round on Thursday - is made up of Olympians Joe Choong and Jamie Cooke as well as Tom Toolis and Sam Curry.