Premier League: Ipswich Witches 59-35 Plymouth Devils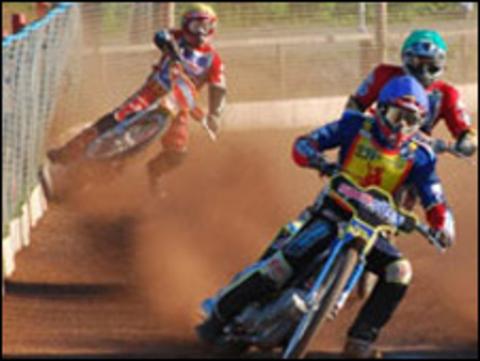 Plymouth Devils went down to their fourth defeat of the season as they lost 59-35 at Ipswich Witches.
Lasse Bjerre was the top scorer for Ipswich, picking up 14 points, while Taylor Poole contributed 12 from his five rides.
Cameron Woodward notched 14 points for the Devils, while captain Mark Simmonds grabbed 11.
Ipswich were stronger across the board, with three Devils riders only picking up three points between them.
The Devils remain bottom of the Premier League without a win this season, while Ipswich are second, level on points with leaders Somerset.
Ipswich: Kevin Doolan 8 (4 rides), Taylor Poole 12 (5), Lasse Bjerre 13+1 (5), Morten Risager (rider replacement), Chris Schramm 6+3 (4). Reserves: Jerran Hart 9 (4), Chris Mills 10+2 (4), Lewis Blackbird (no 8) 1 (4).
Plymouth: Cameron Woodward 14 (5), Lee Smart (rider replacement), Seemond Stephens 0 (3), Mark Simmonds 10+1 (6), Jason Bunyan 1+1 (4). Reserves: Jesper Kristiansen 9+1 (7), James Cockle 1 (3).