Six new teams get contract to race in MotoGP in 2012
Last updated on .From the section MotoGP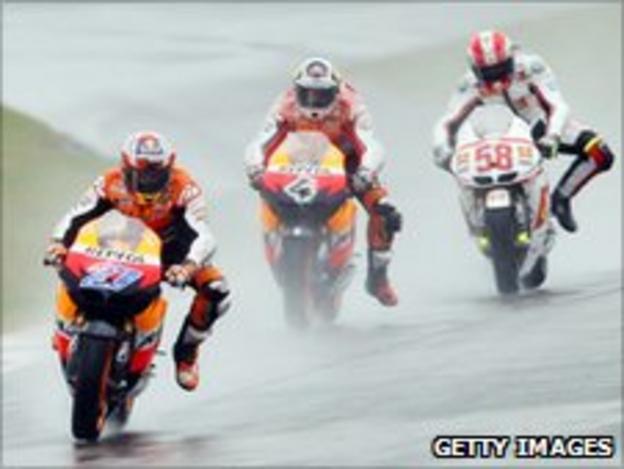 Six new teams are set to compete in next year's MotoGP World Championship.
The teams, who currently race in the lower Moto classes, will make the move provided they receive final approval from the Federation Internationale de Motocyclisme (FIM).
By Queroseno Racing, Forward Racing, Kiefer Racing, Marc VDS Racing Team, Paddock GP Racing and Speed Master have all been offered contracts by the FIM.
The FIM is also looking at bids from some new manufacturers wishing to race.
By Queroseno, who have received backing from American socialite Paris Hilton this season, currently race in the 125cc class while the other five teams offered contracts all run bikes in the Moto2 category.
Next season MotoGP moves to 1,000cc engines from the current 800cc units.
The move was designed to cut the costs of running a team and resulted in 11 squads from the 125cc and Moto2 categories expressing an interest in making the step up.
The six teams granted initial contracts will be limited to one rider apiece.
Should they receive final approval it will provide a significant boost to the size of the MotoGP grid, which has hovered around the 17-bike mark in recent years.
Casey Stoner leads the 2011 MotoGP standings by 18 points from reigning champion Jorge Lorenzo.