Cal Crutchlow set for Assen test but Casey Stoner is the man to beat

By Steve Parrish
BBC motorcycling commentator
Last updated on .From the section MotoGP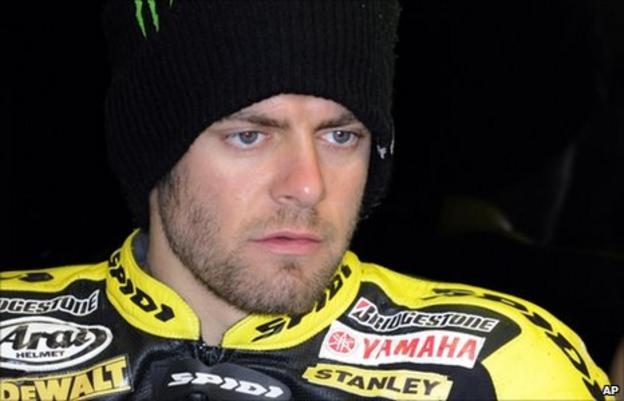 After the wet and wild race at Silverstone, it could be another tricky race in Assen as the championship moves onto round seven.
I have had to pack some unusual items in my suitcase after getting hold of some surgical plates to show on camera to illustrate what happens when you break a collarbone - as three of our top riders have done in the last three races.
It is a real shame that we have so many injuries at the moment but that is the way it goes in bike racing at times.
Cal Crutchlow is going to travel despite his disastrous accident at Silverstone and all he can do really is go out in practice and see how it goes. Riding with a broken collarbone is going to be very difficult for him but he only has to look at his team-mate Colin Edwards to see how to do it.
Edwards finished third at Silverstone just a week after breaking his own collarbone so it is possible. Crutchlow's break was worse but the good news for him is that it looks like there will be rain again in Assen, which will slow the race down and lessen the force going through his fracture.
I don't think he will find the strength side of things an issue but it will be awkward for him. He will be in pain but the main problem will be if he has lost any confidence.
You never want to fall off but even more so when you are injured and in grand prix racing if you are cautious, you are last. So it will be a tough weekend for him.
But Crutchlow is a tough lad and he will give it his all.
But it looks like another race without Dani Pedrosa. It has been six weeks now since he broke his collarbone, which seems an awful long time to be out - it is shrouded in a bit of mystery.
I have said before that he seems to be more fragile than the other riders and it is really blighting his career. He has all the talent in the world but if you can't start races you will not win a championship.
But his Repsol Honda team-mate, Casey Stoner, certainly has no problems on that front. He has run away with the last three races and it's hard to see anyone challenging him this weekend either, on current form.
If Stoner does win the championship this year, he will come up against a bigger grid next season after last week's news of six more teams joining the series.
It is a much-needed boost to a thin grid this year, particularly given the number of injuries we have seen.
The new regulations will also see the bikes returning to one-litre engines, from the current 800cc, a move that will help the new teams be competitive and should mean some more exciting racing.
It could lead to more British riders joining Crutchlow in the series - with Scott Redding looking a good bet to make the step up - and that will be great news for fans in this country.
Assen race prediction:
1) Casey Stoner 2) Jorge Lorenzo 3) Marco Simoncelli