Marco Simoncelli storms to pole at Assen MotoGP
Last updated on .From the section MotoGP
Marco Simoncelli pipped American Ben Spies to take pole position for Saturday's Assen MotoGP.
Gresini Honda rider Simoncelli managed a time of one minute 34.718 to take top spot, with Spies just nine thousandths of a second behind.
Championship leader Casey Stoner was third on his Repsol Honda with reigning champion Jorge Lorenzo fourth.
British rider Cal Crutchlow managed to qualify in sixth despite riding with a broken collarbone.
Simoncelli - who is still searching for his first MotoGP podium finish - has crashed out of three of the six races so far this season but has now qualified in the top two in all of the last five.
Nine-time champion Valentino Rossi was second in wet practice on Thursday on his new Ducati but that result proved to be a false dawn and he could only qualify down in 11th place.
Crutchlow had an operation last week to repair his left collarbone and put in a superb effort to start on the second row.
The 25-year-old had a plate and seven screws inserted into the fracture after a crash at Silverstone but was lying in third place with less than a minute of qualifying to go before a late surge from the pack pushed him back.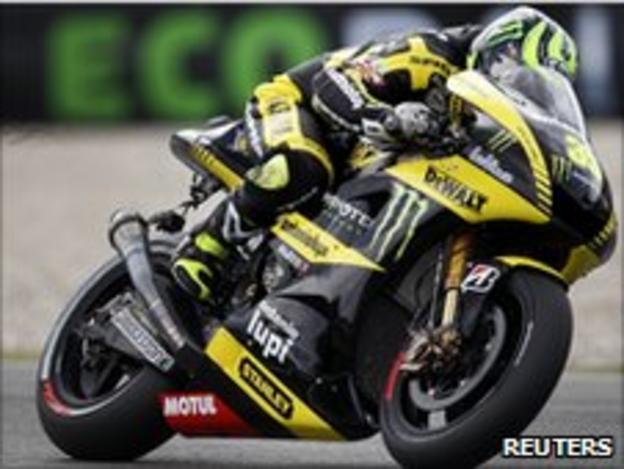 "I was on the front row right at the end and it just got taken away, but I'm still really happy because I came here and didn't think I'd even be riding at this stage of the weekend," he said.
"I thought I'd only be able to do a few laps because of my collarbone injury and here I am fighting for the front row.
"My shoulder is really sore now. The 90-minute session this morning, followed by another hour this afternoon, means I can really feel the collarbone throbbing.
"The fast changes of direction are the biggest issue. Flicking the bike through some of those fast kinks is hard enough when you've got full strength, so for me having a big operation to plate my collarbone only last week, it is really difficult.
"To be honest I hope it rains for the race tomorrow, but I'll try my best for whatever the weather."
Pramac Ducati rider Loris Capirossi will miss the race after he was injured in a high-speed crash when he was hit by his own bike.
He said: "There's not much to say. It's not much fun to be crushed by a bike at high speed.
"Tomorrow I'll go back to Monte Carlo, and in two days I'll undergo some more checks on my physical condition."
Assen MotoGP qualifying results:
1) M Simoncelli (It) Gresini Honda 1'34.718
2) B Spies (USA) Yamaha 1'34.727
3) C Stoner (Aus) Repsol Honda 1'35.008
4) J Lorenzo (Sp) Yamaha 1'35.143
5) A Dovizioso (It) Repsol Honda 1'35.244
6) C Crutchlow (GB) Tech 3 Yamaha 1'35.329
7) K Abraham (Cze) Cardion Ducati 1'35.742
8) C Edwards (USA) Tech 3 Yamaha 1'35.818
9) N Hayden (USA) Ducati 1'35.866
10) R De Puniet (Fr) Pramac Ducati 1'36.435
11) V Rossi (It) Ducati 1'36.564
12) H Aoyama (Jpn) Repsol Honda 1'36.580
13) H Barbera (Sp) Aspar Ducati 1'36.590
14) A Bautista (Sp) Suzuki 1'36.820
15) L Capirossi (It) Pramac Ducati 1'37.130
16) T Elias (Sp) LCR Honda 1'37.651
17) K Akiyoshi (Jpn) Gresini Honda 1'39.006
Moto2 qualifying result:
1) S Bradl (Ger) Kalex 1'39.305
2) M Marquez (Sp) Suter 1'39.600
3) S Corsi (It) FTR 1'39.700
125cc qualifying result:
1) M Vinales (Spa) Aprilia 1'44.597
2) J Zarco (Fr) Derbi 1'44.785
3) S Cortese (Ger) Aprilia 1'44.787