Steve Parrish's MotoGP column

By Steve Parrish
BBC motorcycling commentator
Last updated on .From the section MotoGP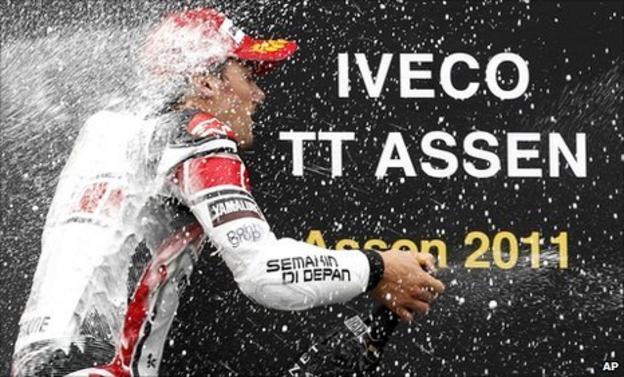 Yamaha will be happy as they enjoy their 50th anniversary celebrations - but they can't get away from the fact that the win didn't come from the man who is chasing the championship.
It was good to see Ben Spies get his first win at last. He had some really good results last year and great things were expected of him this season as he stepped up to the factory team, but it just hasn't worked for him so far.
The bike has not been that competitive and he has not finished three races, so he'll hope he has got all his bad luck out of the way early in the season.
I really do fear for Marco Simoncelli though. He was fast enough to blitz everyone in qualifying and managed to get pole, so he's clearly got the ability, but youthful exuberance took over and we all saw what happened when he crashed on the first lap.
It was the first left turn, so he went onto the cold side of the tyre. In the commentary box, we were wincing at what was going to happen - and it did.
By taking out Jorge Lorenzo, what he did was break up the field and allowed Spies to break clear. Otherwise, I think Simoncelli would have been running with him. You can't win the race on the first lap, which is what he was trying to do, but you can definitely lose it.
Even before the race, Lorenzo didn't like Simoncelli - so can you imagine what the repercussions of this might be. It looked like Lorenzo's instant reaction when they got up was to go and thump him, before he realised he needed to sort his bike out and get back on with the race.
You can say it's just one of those things - and these things happen in racing - but the truth is that Simoncelli was the only rider that it happened to.
Lorenzo is smart enough to say that he salvaged something from the race, and under the circumstances to finish sixth is very impressive. By the end, he was lapping faster than anyone - if he'd been in the mix from the start, it would have been a very different story.
He is now more than a race worth of points (28) behind championship leader Casey Stoner but it is way too early to start drawing any conclusions. Stoner may be on form but he could fall off and break his leg just like anyone else. Even if it was 75 points, it wouldn't mean that much.
Stoner's still under pressure and being chased. The Hondas suffered with their set-up this weekend as much as anyone else did because it was so cold. Last year's track temperature for this race was 40 degrees, and in Assen it was 13. However, it was a mature, sensible ride from Stoner - he did exactly what he had to.
And let's give a mention to Cal Crutchlow. The result was a huge disappointment for him - he was doing amazingly, and challenging Valentino Rossi for fourth or fifth place, when his front tyre went because of the track conditions being so cold.
A lot of people had really bad wear and tear today, so they could really have done with some more tyre options in such unpredictable weather conditions.