Steve Parrish's MotoGP column

By Steve Parrish
BBC motorcycling commentator
Last updated on .From the section MotoGP
The MotoGP circus rolls into Mugello this weekend and it is a massive few days for Valentino Rossi.
There should not be any psychological hangover for him at the circuit but he may be a bit cautious in practice on Friday.
At the time I was asked whether that was a career-threatening injury and I said no but he has only had one win since then and you wonder how many more he will get.
It has certainly slowed his career down, there is no doubt about that.
Rossi has an unprecedented record at Mugello, he loves the track and he has been testing there so maybe he will be back up at the front. I do not think he can win but he could end up on the podium, which would be a huge boost for all his fans.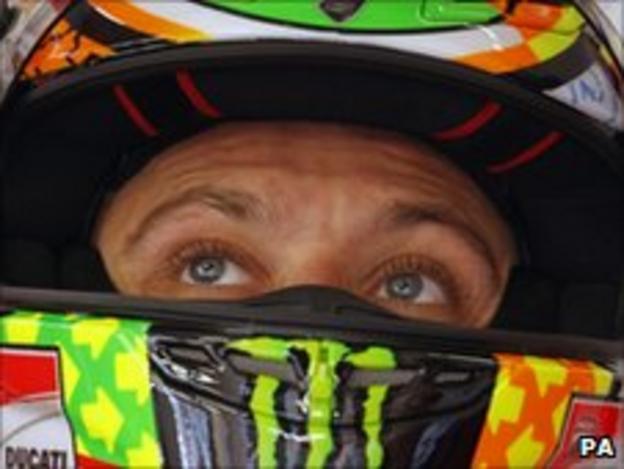 The bike is made just up the road from the Mugello circuit as well so it could be a bit of an embarrassment if they do not manage a respectable result.
Ben Spies won in Assen last weekend but at the top of the standings Casey Stoner is doing what Jorge Lorenzo did last year. He realises that sometimes he cannot win but he is picking up finishes and growing his points lead.
We are all pleased to see Dani Pedrosa back from injury. It has been a long time coming but if he can come back 100% fit and challenge from the off this weekend then maybe his decision to stay on the sidelines will be vindicated.
He needs a bit of a miracle to challenge for the title but stranger things have happened. All he can do is concentrate on winning races.
I just hope Marco Simoncelli has still got the fight in him after his latest crash.
During my truck racing days I gained the reputation of being a lunatic and it is not much fun because you start believing it yourself if you are not careful.
He made another mistake at Assen and his management will be telling him just to finish some races and get some points under his belt.
It does not look good at the end of the championship to have no points and it will seriously harm his chances of getting a factory ride for next season.
Over the last few races he has been the fastest man out there but he has to prove he can challenge for the title.
He has the pace but he has to convert it into results, but it is difficult because if he slows down too much he will be way off the pace and finishing 10th.
It is very easy to crash one of these motorbikes and he will just have to be more patient.
Mugello race prediction:
1) Stoner 2) Lorenzo 3) Rossi