Steve Parrish's MotoGP column

By Steve Parrish
BBC motorcycling commentator
Last updated on .From the section MotoGP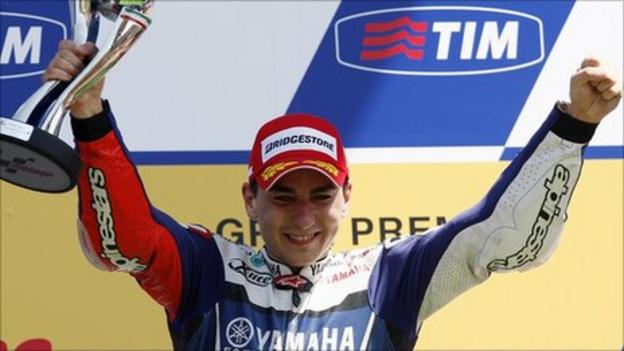 Jorge Lorenzo rode one of his best ever races to triumph at Mugello - and the Yamaha rider's victory looks to have set up a straight fight with Casey Stoner for this year's MotoGP title.
It looked like Stoner, who now leads Lorenzo by 19 points, was going to walk away with the Italian MotoGP. He was pretty much the fastest guy over the weekend, setting a new Mugello lap record in qualifying, and he opened up a lead of nearly three seconds.
But when Stoner's tyres got hot by the middle of the race, 2010 world champion Lorenzo was able to fight back and overhaul him with six of the 23 laps remaining.
It was a big surprise - Lorenzo was playing second fiddle to the Hondas but turned the tables on them.
The Yamaha is a sweet-handling bike that is able to work anywhere. All the teams use Bridgestone tyres and clearly Yamaha was able to manage them better on Sunday. The handling of the Yamaha trumped the speed of the Honda.
I have said all along that the title is between Lorenzo and Stoner, particularly after Dani Pedrosa broke his right collarbone in a crash with Marco Simoncelli during the French MotoGP in May and subsequently missed three races.
Pedrosa, who finished eighth in Mugello, will come back and win races but by dropping back to seventh place in the standings he looks to have too much to do to win the title, although he could play a part in the outcome by helping his Honda team-mate Stoner.
Taking three races out to get fit might have strengthened Pedrosa's arm but it's a different story when it comes to race fitness.
I don't think that Andrea Dovizioso, the Italian who overtook Stoner on the final lap to take second place, is consistent enough to take the title though he's third in the standings.
I had tipped Valentino Rossi to nick a podium place this weekend, in his first race in front of his home fans since joining Ducati - and on his return to the track where last year he broke his leg in a crash during practice..
The nine-time world champion will be disappointed with sixth, particularly because Mugello is Ducati's home track and they have been testing there.
He was about 30 seconds behind at the finish, meaning they were losing more than a second per lap on the leaders, but there is incredible worship for him at Mugello, it's quite extraordinary.
There were 85,000 fans here and about 75,000 were wearing Valentino Rossi merchandise.
It was an OK performance from Marco Simoncelli to finish fifth, but that was all, and he is yet to get on the podium - he always seems to crash, like he did on the first lap of the Dutch MotoGP in Assen, or has a steady race.
The crashes present a psychological challenge for the Gresini Honda rider. Everyone says he has to slow down a bit, but the problem is that he ends up in fifth when he does that.
Sooner or later he's going to end up on the podium and win, but he's had the stuffing knocked out of him by the established riders moaning about him.
It was a mature decision by Britain's Cal Crutchlow to pit because he was worried about crashing - as he did during qualifying at Silverstone in June when he broke his left collarbone in five places.
The Yamaha rider lost a lot of practice time at Mugello due to the poor weather, and he'd never been to the track before. But he's still doing as well as - if not better than - I expected this season.