Jorge Lorenzo & Casey Stoner rule out Japanese MotoGP
Last updated on .From the section MotoGP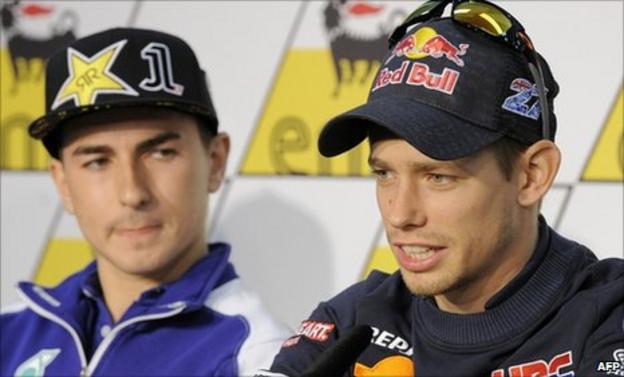 Leading riders Jorge Lorenzo and Casey Stoner have confirmed they will not take part in October's Japanese MotoGP.
The race was postponed earlier this year following the earthquake and tsunami in the country, and has since been rescheduled for 2 October.
But the star duo have ruled out taking part at the Motegi circuit, which lies just over 100km from the damaged Fukushima nuclear plant.
Stoner said: "I will not go and most riders have the same opinion."
Australian Stoner won the world championship in 2007 while Spaniard Lorenzo is the reigning champion.
Stoner switched to the Repsol Honda team for this season, while Lorenzo rides for Yamaha - both Japanese manufacturers - and the Motegi circuit is owned by Honda.
Stoner added: "That's my opinion and I've had it for some time. Not as long as Jorge. I took more time to make my decision, but I will not go there.
"That's my decision. I guess it's up to the organisers to figure out what's going to happen.
"If a similar thing happened near my home in Australia I wouldn't be going back there. It'd be the same situation."
Lorenzo said: "I took this decision not to go to Japan a long time ago. So I am not active in the ongoing discussions about going to Japan because I have already made my decision.
"I think if we can help Japan in another way we will, but I think going there is not real support."
Race organisers Dorna still expect the race to go ahead but have revealed that an inspection of the area is underway.
Dorna chief executive Carmelo Ezpeleta told BBC Sport: "We have launched a private investigation and we will have the results on 24 July.
"If there is any level of radiation that is a concern then we will make a decision but we expect to race at Motegi.
"If the riders don't want to go, then that is not our problem. It will be up for the teams to resolve."