Steve Parrish's MotoGP column

By Steve Parrish
BBC motorcycling commentator
Last updated on .From the section MotoGP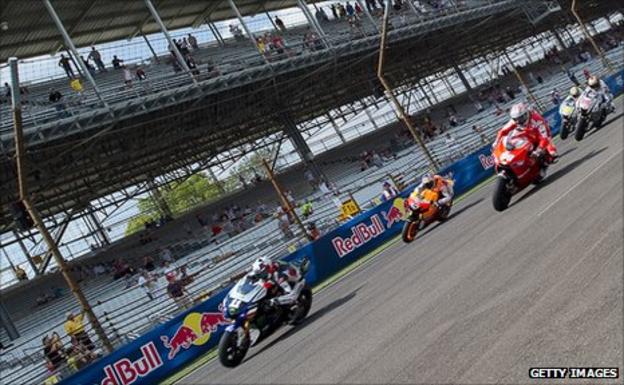 As we enter the championship run-in it is all looking very cosy for Casey Stoner.
The Australian has produced fine rides to win the last two races and now has a 32-point lead over reigning champion Jorge Lorenzo.
We thought that he might struggle to win in Brno last time out but Stoner took full advantage of Repsol Honda team-mate Dani Pedrosa crashing out on lap four.
We are in for quite a spectacle this weekend at the historic Indianapolis circuit.
And despite having a nightmare there last year on the Ducati, Stoner will certainly take some beating.
The circuit has been resurfaced after the bumpy section caught out a lot of riders in the past so we should see some better racing. It was like a patchwork quilt in some areas but the tarmac has been sorted out now once and for all.
Stoner has never been on the podium at Indianapolis but it seems he is the man to beat wherever he goes this year.
His substantial lead in the championship means he can settle for some sensible points rather than going for the win in every race, while the pressure is on Lorenzo to go for broke.
Although Andrea Dovizioso is not far off the pace I see it as a two-horse race between Stoner and Lorenzo.
Lorenzo has seven races left and has what it takes to do it. I still feel that the champion will be whoever has the least bad luck, as there are so many things that can go wrong when you are racing a motorbike.
It is always a bit of a surreal atmosphere at Indy, which has the biggest capacity of any sporting arena in the world.
It seats over 400,000 people - an incredible number - so even though we are likely to get over 100,000 in on Sunday it will look empty.
When you get there it is quite awe-inspiring - it is more of a city than a racetrack and even boasts a PGA golf course in the middle!
The riders enjoy going there as it is such a historic place and while they have moaned about the circuit itself in the past hopefully that will be sorted now and we can enjoy a good, close race.
Indianapolis prediction:
1) Dani Pedrosa 2) Casey Stoner 3) Jorge Lorenzo