Steve Parrish's MotoGP column

By Steve Parrish
BBC motorcycling commentator
Last updated on .From the section MotoGP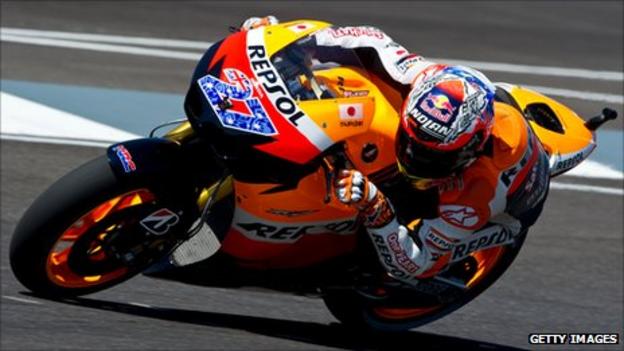 Casey Stoner's win in the United States MotoGP, his third win a row, has left the race for the championship looking very predictable - and there's not much anyone can do about it.
Put simply, Stoner is an amazing rider and he's on an amazing motorcycle. He is a class act and has been all year. He's just too good and he hasn't got much more to do points-wise, with him leading the championship by 44 points with six races to go.
Most experts said the Australian would be the man to beat - and it has proved that way.
The story of the race at Indianapolis was all about tyres and who managed them best. Stoner, and Honda, got it right.
The track was not designed as a motorcycle track. It was a Formula One track, which was then used for the Indianpolis 500. It was resurfaced this year and it has not been bedded in properly yet.
You could see the debris on the circuit and Stoner wasn't happy because it was shredding his tyres. Saying that, he is an amazing rider, but he likes a moan.
I felt sorry for Nicky Hayden on his home circuit, but he and Ducati made the wrong tyre choice and it went backwards from there.
Ducati have been really disappointing this season and it was sad to see nine-time World Champion Valentino Rossi so far back.
The Ducati team has to do something drastic now. They've tried changing small components and it hasn't worked. They are up the creek without a paddle; they have to redesign the whole bike.
Dani Pedrosa took the early lead in the States and he is looking strong now. But he is so far behind after his broken collarbone. I said at the start of the season that it was about riders staying out of trouble and Dani didn't do that.
Jorge Lorenzo was in second position in the early laps, but was overtaken by Stoner and then eventually Ben Spies. Lorenzo has had a bad time. Yamaha have tried their hardest but it just doesn't seem to be enough at the moment.
Spies took some points off his team-mate but I don't think the difference between third and fourth place matters as much as it would have done between first and second.
The American was unlucky. I said before the race Spies was going well and he was the one who really could have given Stoner a run for his money. I'm not saying he would have won it but he certainly could have made it more of a fight.
He looked good in the warm up and you just need sheer luck on that first lap, whether you decide to pass inside or outside. He didn't get that and it cost him.