Bradley Smith turns down move to MotoGP in 2012
Last updated on .From the section MotoGP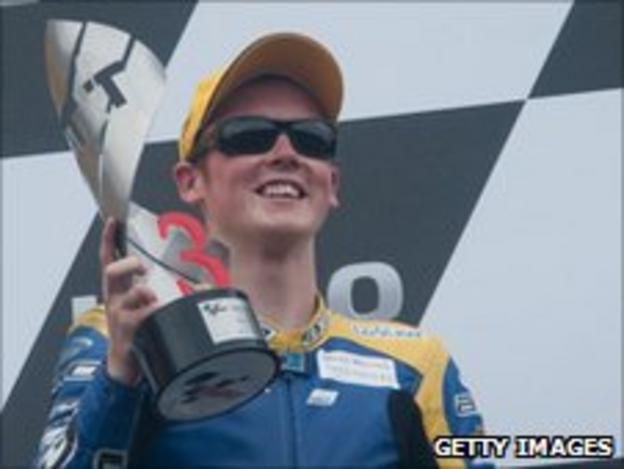 Oxfordshire motorcycle racer Bradley Smith has turned down an offer from his current team to race in MotoGP next year and will stay in the Moto2 class for now.
The Tech3 rider says that he only wants to make the step up at the right time in his career.
"It's not that I don't believe I'm ready for the challenge," the 20-year-old told BBC Oxford.
"It's my long-term goal but I want to do my career the way I want to do it."
He added: "I've already finished second in the 125cc championship and I have the chance to finish third in Moto2 this year.
"I want to remain in a class where I know I can win races next season."
He added: "It would be nice to go for a title hunt in 2012 and give myself another chance. I'm only going to be 21 years old and have a long future ahead of me."
The British rider admits he has several offers for his services next year and will make a final decision after his next race in Aragon.
He said: "I definitely have quite a lot of interest on the table. At Aragon it will be the last opportunity for the teams that are enquiring and then on Sunday evening I make my decision."
Tech3 remain one of the possibilities for Smith next season but he remains open minded and undecided about who will ride for after the current campaign is over.
"Obviously if you are going to go up against your rivals you need the best possible machinery. We are working with the Tech3 team to improve that bike but right now it isn't as good as the others," he said.
"But I know from the technical side and the meetings I have had they are looking to improve the package. It's interesting times and exciting to be part of a sport that is evolving.
"I would like to be in MotoGP and if that is my goal for 2013 then that also has to be part of my decision.
"It's not just as simple as take the best bike with the most money. It's definitely a long-term thing I am looking at."
Having resisted the temptation to rush into the sport's premier class at the first opportunity the Briton says his goal is to stay there when he does join the world's top stars on the grid.
"Going into MotoGP is a big-time deal. It needs to be at least a two-year deal to give yourself the best chance to develop," he said.
"I'm not sure if it's maturity or craziness. The easy option would be to follow my heart and my dream but I want to be more than that. It's what has made me make the decision to stay in Moto2."