Azi Farni MotoGP column: Speed, not danger, is real racing
By Azi Farni
BBC pit-lane reporter
Last updated on .From the section MotoGP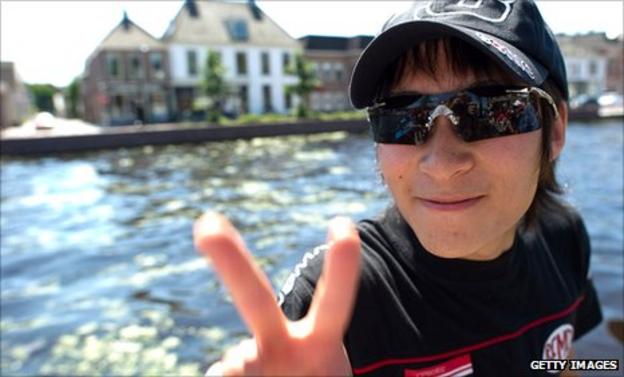 "This is racing." On race day in Misano last year, I lost count of how many times I heard someone say that in response to the news that Japanese rider Shoya Tomizawa had died following a crash in the afternoon's Moto2 race.
Death is a very real possibility in this sport but it's not one you really consider when you go about your job.
To hear people say "this is racing" and "these are the risks" seemed callous.
Only a week before, at the Indianapolis GP, there was another tragedy when 13-year-old Peter Lenz was killed after crashing on the warm-up lap of the MD250H race that preceded the world championship races. As news filtered through the paddock, it produced an atmosphere of shock and incredulity.
For it to have happened again only a week later was almost horrifying.
When the shock, sadness and anger subside, we are left to remember. One year on, Tomizawa's family, his Technomag CIP team and paddock members are gathering to commemorate Shoya's Day.
To those fortunate enough to know him, Tomizawa was a rare and special ray of light. The smile for which he was famous was the outward expression of a natural enthusiasm for life. And he would wear that same smile whether he had just finished on the podium or qualified outside of the top 20.
He was someone who, even in his second full season in the world championship, was still fascinated and thrilled by this world and had time for everyone in it. He was someone who would stop his scooter to ask how you were rather than just wave as he passed by, and someone who always had his arm around his team members and friends when walking around the paddock.
So for such a popular paddock member to be lost was bad enough, but at the time many of us were worried too about what effect the crash would have on the other two riders involved.
Alex De Angelis and Scott Redding, who was just 17 at the time, had both unavoidably struck Tomizawa when he went down. It is a huge testament to the strength of both riders and the people around them that both were able to bounce back from such a traumatic experience to finish the season strongly. Both would finish on the podium in Philip Island where De Angelis dedicated his first ever Moto2 win to Tomizawa.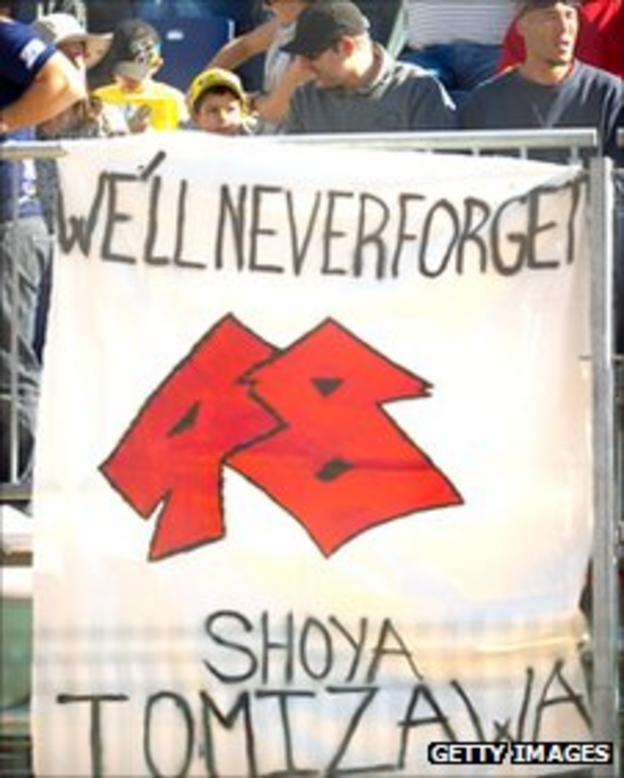 Tomizawa's parents too have shown great courage in the year following his death. They bravely faced their demons and came to Misano again this year to watch Tomo Koyama, riding in Shoya's Technomag CIP team in place of injured Kenan Sofuoglu.
Koyama told Japanese journalists afterwards "at turn 11 of the final lap, I said in my mind 'Hey Shoya, let's have the chequered flag together' and we crossed the line."
There is a lot of debate about the effects of electronic aids such as traction control and how they are "ruining" the sport. While it's open to debate to what extent electronics have limited overtaking options and put more emphasis on bike rather than rider, there can be no question that it has made riding at high speeds much safer, as Casey Stoner has said in the past.
But despite all the efforts to make racing safer - banning dangerous tracks, improving bike and clothing technology, new rules and regulations - every now and then there are crashes the consequences of which come down to pure chance. Hopefully as technology advances that reliance on luck will diminish.
Questions about safety, culpability and, sometimes, as after the tragic death of Lenz, the ethics of motorcycle racing should never stop being asked and the answers should continue to lead to a safer championship. Similarly, while this sport is constantly evolving, we should never forget those who lost their lives in making it what it is.
Following the race last year, while Tomizawa's family, friends and team were coming to terms with their loss and the rest of the paddock mourning one of its own, the reaction from the fans was unbelievable.
At the next race in Aragon the number 48 adorned thousands of t-shirts, flags and banners, including one beautiful inscription that simply read "Shoya, when you get there, keep going". It was incredible to see how this little kid from Japan had touched the lives of so many race fans worldwide simply with his passionate riding.
For me, this is racing.
You can follow the BBC's Azi Farni on Twitter, for all the latest on MotoGP.