Steve Parrish's MotoGP column

By Steve Parrish
BBC motorcycling commentator
Last updated on .From the section MotoGP
Summing up the race in Aragon is very simple - Casey Stoner was in a class of his own all weekend.
The Australian was fastest from minute one on Friday and was in complete control of the race on his Honda. Once he took the lead, he was able to build up a gap and maintain it easily.
He didn't look bothered at any time, which is demoralising for the rest of the riders, and he looks certain to win his second championship.
We are going to some tracks now which he really likes in Japan and Australia and it would take a disaster for him not to win.
Jorge Lorenzo needs to win all four races on his Yamaha and even that could not be enough. Stoner has a 44-point lead with only 100 points left to win.
We thought that Lorenzo's might have been a glimmer of hope for the Spaniard but Stoner was just too good in Aragon and Lorenzo's reign as champion is coming to an end.
To be honest, the only chance he has is if something horrible happens to Stoner - an engine blows up or he falls off and hurts himself.
But neither of those look likely. He can ride sensibly now for the rest of the season and not push himself to the limit.
Further down the field, it was an excellent race for Cal Crutchlow.
The Briton had a bad start which dropped him back but he then had a race-long battle with Valentino Rossi that he will have enjoyed.
Racing with, and beating, a nine-time world champion is a feather in your cap and Crutchlow is seemingly building up his confidence again after a mid-season slump.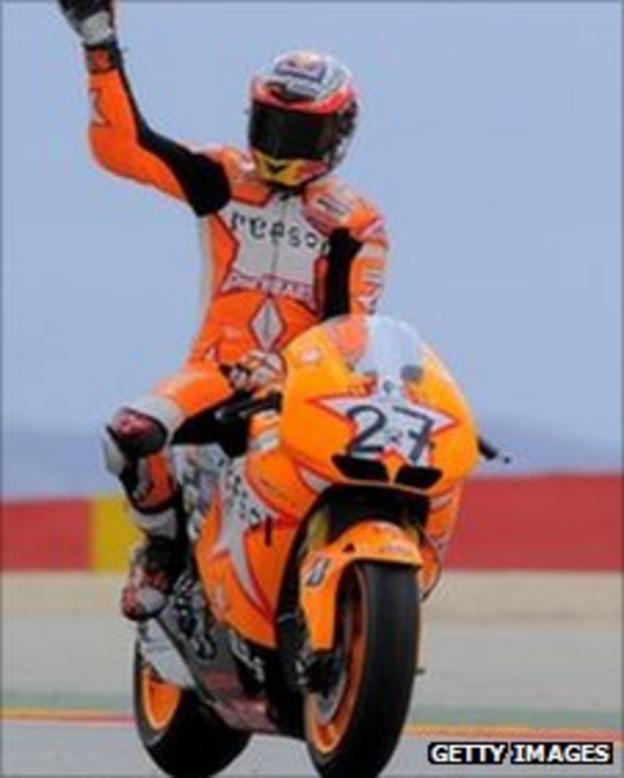 His Tech 3 Yamaha team are happy with him and he is all set to push on next season.
We should find out at the next race in Japan who Crutchlow's team-mate will be next season. Colin Edwards will be a hard man to replace but there are some big names in the frame to join the Tech 3 Yamaha outfit, with Repsol Honda's Andrea Dovizioso in the driving seat.
There is also a chance that Northern Ireland's Eugene Laverty could make the switch, which would be great for us, but we will just have to wait and see.
Stoner can't win the championship in Japan but he can go close, so make sure you are up early to catch the action with us.
It should be fascinating after all the controversy over health concerns in the build-up.