Steve Parrish's MotoGP column

By Steve Parrish
BBC motorcycling commentator
Last updated on .From the section MotoGP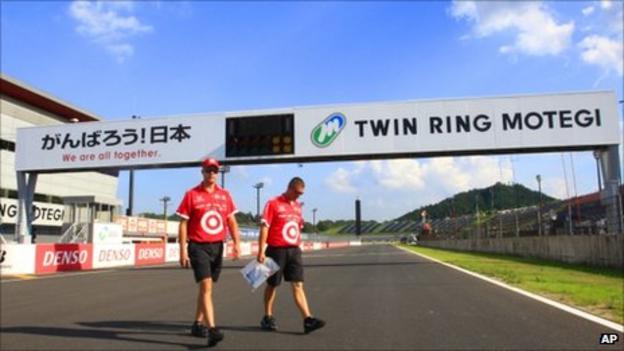 After months of fuss and speculation, we are finally off to race in Japan this weekend.
The race was originally scheduled for April but was postponed as a result of the earthquake and tsunami which hit the region back in March.
The circuit at Motegi is just over 100km from the Fukushima nuclear plant, which was damaged during the disaster, and there had been widespread health fears that radiation could be a factor.
Those fears led to championship rivals Casey Stoner and Jorge Lorenzo announcing in July that they would not race at the rescheduled grand prix.
With both riders racing for Japanese manufacturers in Honda and Yamaha, I just couldn't see any way the riders would not be made to compete, and they are all here now.
One by one they have committed to the race - in the end it was all a storm in a teacup and a bit like schoolkids falling out with the teachers.
I'm glad it got sorted and we can get on with racing.
Inititially I had some fears when it first happened but once the British government came out and said it was safe to return then I had no worries. All the radiation checks have come back clear so there is really nothing to worry about.
As for Motegi itself, this is the second year in a row that the race has been moved back to later in the year and that means that it is likely to be wet. So we could have some rain and there will also be the spectacle of having eight Hondas on the grid which is quite a sight.
The grid will be bolstered this weekend by Honda test rider Shinichi Ito - who is racing at the age of 44 - with fellow Japanese Kousuke Akiyoshi also taking part in a one-off race.
At the front, the title race is still mathematically on but Lorenzo needs a miracle to be honest and I can't see him getting one. Casey Stoner knows what he needs to do and Honda are very experienced in winning titles and won't let this one get away.
Stoner has such a big lead now that he can ride within himself and pick up the points he needs. He can't win the title this weekend - but he should move very close.
Across the grid, Marco Simoncelli has signed a new contract to stay with his Gresini Honda team and he could really be the man to watch next season. We are moving up from the 800cc engines they use now to 1000cc next year, and whenever there is a change in regulations like that it tends to level the playing field.
So Simoncelli's Honda will start pretty much identical to Stoner's Repsol Honda. Simoncelli has shown enough this year to suggest that he can really compete and I think he is ready now.
He has had his pole positions, he has led races and he has been on the podium. All that is missing is that race win but I am sure he can do it. It is all a bit like Stoner's first year on a Honda in 2006 when he crashed a lot and then came back the next year on the Ducati and won the title.
We have also had the exciting news that British rider Bradley Smith is coming to MotoGP in 2013.
It's great news for British fans. Bradley has never pulled up any trees in his racing career but he has always been very consistent. Now he knows where he will be for the next three years, it's a real weight off his shoulders.
He is very happy and settled, he knows all the tarcks, all the teams and is used to the travelling circus of grand prix racing. He has put himself under a bit of pressure for next year by deciding to stay in Moto2 because he will be expected to be winning in that series now but it does mean he will be really ready for his shot at MotoGP.
Motegi prediction:
1) Casey Stoner 2) Jorge Lorenzo 3) Dani Pedrosa