Mick Doohan believes Casey Stoner will have to wait for MotoGP title
Last updated on .From the section MotoGP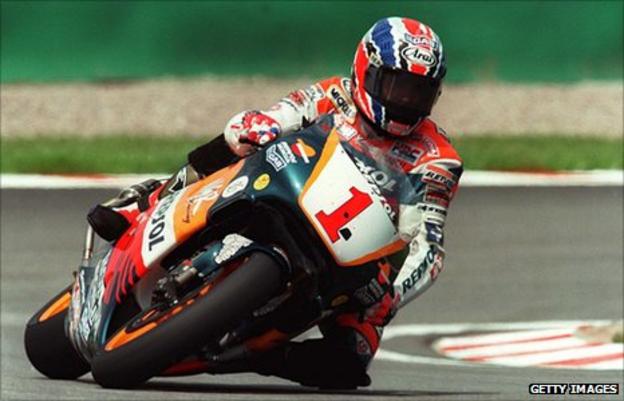 Five-time world champion Mick Doohan believes Casey Stoner will have to wait to seal the MotoGP championship.
Stoner has won at Phillip Island for the last four years for Ducati and is on the verge of his second world title.
But Doohan believes reigning champion Jorge Lorenzo will pick up enough points in Australia on Sunday to extend the championship race for another week.
Doohan said: "There is a chance for Casey to win the championship on Sunday, but it's still fairly remote."
Stoner won the title as a 21-year-old in 2007 and needs to pick up 10 more points than Lorenzo this weekend to take a second crown in his first season for Repsol Honda.
Doohan won five 500cc championships in a row for the factory Honda team in the 1990s and expects his fellow Australian Stoner to win his home race for a fifth successive year on what will be his 26th birthday.
But he also backed Lorenzo to get on the podium and leave Stoner waiting until the Malaysian Grand Prix on 23 October to make the title safe.
"Lorenzo has been consistent all year so he has to have an off day and Casey needs to be totally on his game," Doohan told BBC Sport.
"But Stoner has won down here for the last few years so he is more than capable of doing it. I hope that he can win the title on his birthday, at his home race. That would be the icing on the cake.
"If the cards fall his way he'll be champion but I don't think he'll be too concerned if it doesn't happen this weekend."
Doohan won the Australian Grand Prix three times - including at Phillip Island in 1998 - and ranks it as one of his career highlights.
The 46-year-old said: "Winning your home race is an amazing feeling.
"If you mess up you've got a long time to wait to try again so that does add some pressure.
"Stoner won the title a few years ago but his performances over the last few years have been hit and miss. Australians are not dissimilar to people in the UK - if you are winning, winning, winning all the time they get on your back but if you are struggling they disown you pretty quick.
"So everyone in Australia is back on the bandwagon at the moment and they all want a piece of Casey. The more he wins the more that will continue and he's very good for the sport over here."