Steve Parrish's MotoGP column

By Steve Parrish
BBC motorcycling commentator
Last updated on .From the section MotoGP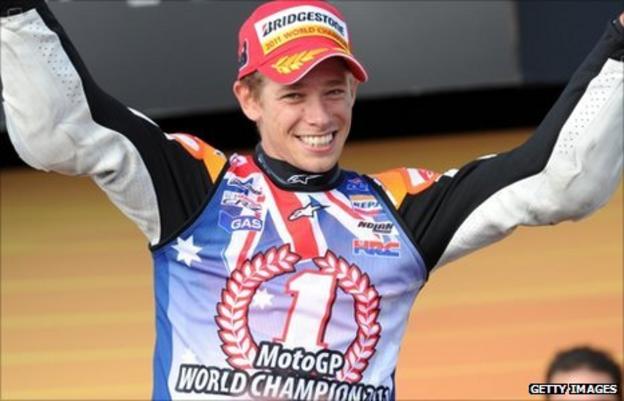 After 16 races, 15 podiums and nine wins, Casey Stoner is finally the MotoGP champion for 2011.
He is a double world champion now. The record books will say he won it in Australia but I'm sure he would have liked to have actually beaten Jorge Lorenzo out on the track.
As it was, Lorenzo was in hospital having treatment on a finger injury which ruled him out of the race.
It was a shame not to have the spectacle of the two rivals up against each other but Stoner had to see off another formidable opponent in the end.
It wasn't Jorge Lorenzo he was battling against - it was the elements.
It's not often you can compare the two but the weather in Phillip Island is very similar to that in the Isle of Man. It can be sunny one minute before a 10-minute shower - then sunny again. It's practically impossible to predict.
That is exactly what happened during the race as a late burst of rain turned the circuit into an ice rink.
Stoner would have been cursing the weather during those final few laps because everything was being thrown at him.
It would have been so easy to crash - and he did have a few moments. When you are out in front by quite a way, as he was, then you have nobody to guide you. If there is bad weather, you hit it first.
Cal Crutchlow was one of three riders who all crashed out in the rain in quick succession and I spoke to him afterwards.
He said that he had no rain on his visor at all. There had been a quick shower over one part of the track but it was dry everywhere else and it had stopped raining by the time the riders approached the wet section.
They had no warning and, when you tip one of these bikes into a corner on slick tyres, there is little chance of staying on.
I did the same thing when I was leading the British Grand Prix in 1977. It catches you out and it is like being on ice.
Of all the riders who crashed out, it was interesting that Marco Simoncelli stayed on. A few months ago we would have expected him to be on the deck with his gangly arms and legs but he is showing signs of maturity now.
He slowed down when it was wet, stayed on the bike and, while he was passed by Andrea Dovizioso, he was able to get ahead of him again when it dried out.
He has been quick all year and, if he keeps using his head like that, he can be a real force. Second place here was his best result and he will surely win a race before too long?
Finally a word on Lorenzo after his crash.
His hand got trapped under the handlebar and that is what grinds away at the bone. It is a nasty, painful injury but, if Lorenzo had a more realistic chance of keeping his title, I think he would have raced.
Stoner's fellow Australian Troy Bayliss had the same injury a few years ago and he rode on but it was probably best for Lorenzo to get it looked at now.
He will have some plastic surgery on it and he will be fine. He won't be racing at Sepang next weekend - but I hope you will join us.