Casey Stoner can match Valentino Rossi's records - Doohan
Last updated on .From the section MotoGP
Former world champion Mick Doohan believes Casey Stoner has the potential to beat Valentino Rossi's haul of seven premier class titles.
And fellow Australian Doohan, who won five 500cc championships in a row in the 1990s, has backed Stoner to dominate the sport.
Doohan told BBC Sport: "Casey could win another five or six titles."
Rossi has won nine world titles in all - seven in the top class and one each at 125cc and 250cc level - while Giacomo Agostini is the outright record holder with 15, eight of which came in the top class between 1966 and 1975.
Stoner won his first world title for Ducati in 2007 before dominating this season on a Repsol Honda.
Doohan was similarly controlling for Honda in the 1990s and expects Stoner to move past his tally of 54 race wins.
"Casey is still only young and it depends how long he can stay motivated," Doohan added.
"Sportsmen have 10 years where they can really immerse themselves totally in their sport and live and breathe it.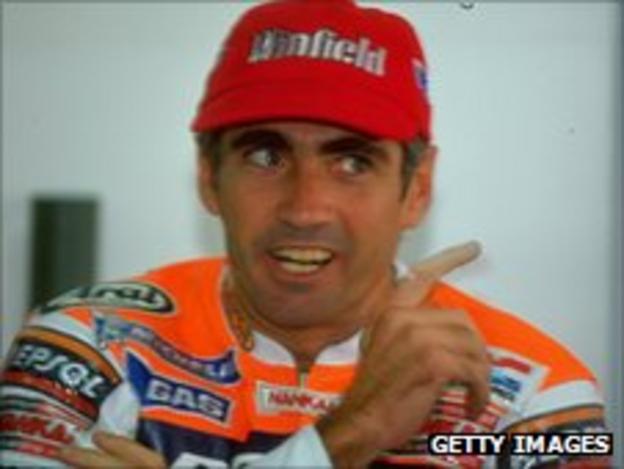 "After that, no matter what sport it is, once you go beyond that 10 years of total dedication it becomes very hard to stay so focused.
"So he has probably got another five years or so at the very top. If he stays on his current form then he could win another five or six titles, it's really up to him.
"Bear in mind that he had a few years with Ducati when he was on a bike that wasn't really capable of mounting a serious challenge, so he could have already won a few more.
"Where does he rank in the history of the sport? I'll leave that for people who have got nothing else better to do, but he is without a doubt one of the best of his generation.
"He will go down in the history books as one of the toughest riders there has ever been."
Rossi has been the central figure in grand prix racing since Doohan retired through injury in 1999 but Stoner has put the Italian in the shade this season.
Rossi has struggled in his first year on the Ducati Stoner rode last season, and is set to lose his record of winning at least one race in every year since his 125cc debut in 1996.
He has two more chances to maintain that sequence before the finale in Valencia next month but Doohan doubts Rossi can mount much of a challenge.
"Rossi is a great rider and one hell of a competitor," Doohan said. "He has seven world titles in MotoGP and a few more in 125cc and 250cc prior to that so he has been around the block.
"But he is not pushing himself beyond where he wants to at this part of his career. He's not willing to ride the Ducati like Casey was."