Marco Simoncelli's death was a 'freak accident' says James Toseland
By Lawrence Barretto
BBC Sport
Last updated on .From the section MotoGP
Marco Simoncelli's death could not have been prevented by better safety measures according to double World Superbike champion James Toseland.
The Italian was killed when he lost control of his bike and was hit by Colin Edwards and Valentino Rossi in Sunday's Malaysian Grand Prix.
"It was a freak accident," Toseland told BBC Sport. "There's nothing much more we can do to make the sport safer.
"The ultimate price is that you lose your life. This is a dangerous job."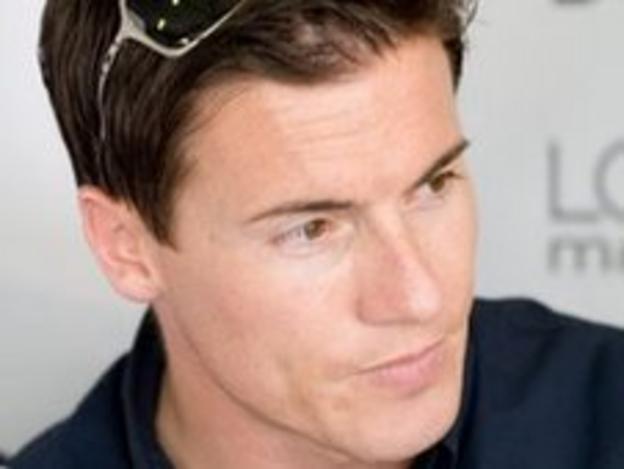 Simoncelli, who won the 250cc class world championship in 2008, had his helmet knocked off during the accident and was subsequently hit by Edwards and Rossi at turn 11 on lap two of the race.
The 24-year-old was taken to the medical centre for treatment but was declared dead 45 minutes later.
"Marco was such a likeable lad," added Toseland. "I think everybody envied his hairstyle, charisma and will to win.
"He was a lovely, quiet lad away from the track but once he pulled his helmet on, he was the most ferocious winner out there.
"He was a great champion and he was already looking like a superstar in MotoGP."
American Edwards, who broke his collarbone for the second time this year in the accident, left the venue without making any comment.
"Colin was so unlucky to be in the wrong place at the wrong time," said Toseland. "It could have been any motorcycle rider on that day, but unfortunately it was Colin.
"I sent him a text message yesterday saying I was thinking about him. He must be feeling dreadful but there was nothing he could do.
"It happened so quickly and incidents like this happen so rarely, especially with all the safety gear we have.
"It will take a while, but I hope Colin can move on and try to put it to the back of his mind."
Toseland added that he believed the final race of the season in Valencia on 6 November should go ahead as a tribute to Simoncelli.
"I don't think the championship should stop. It needs to go on and it would be a massive tribute to Marco," added the 31-year-old, who retired from racing in March after failing to recover from a wrist injury he sustained in a World Superbike crash.
"It's what happens. Motorcycling is a great, great sport and there a lot of people who love it. Yes, it's a real shock but it will go on."