Steve Parrish's MotoGP column
Last updated on .From the section MotoGP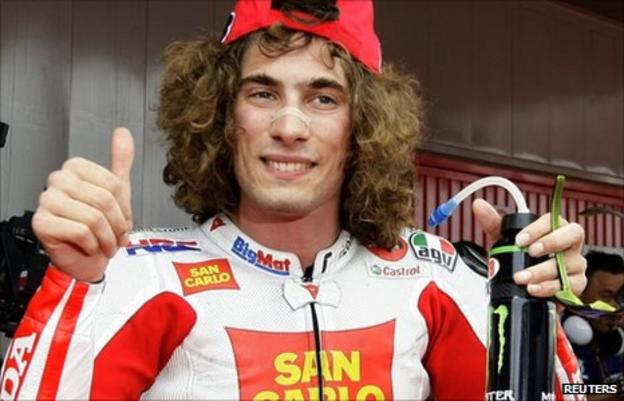 It is going to be a very subdued weekend in Valencia as a grieving MotoGP world returns following the death of Marco Simoncelli.
He crashed so often but he seemed invincible. It's like we've all lost a friend.
In a way it's good news that the championship has already been decided as this weekend will be a tribute to Marco. It's the first time I've ever gone to a grand prix and not known what to expect.
Marco's father Paolo wants the riders to come together for a minute of chaos, instead of a minute's silence, and that may help to break the ice at the final race of the season.
He wants the riders from all three racing classes to form on the grid and rev their engines for a full minute which will be a good spectacle.
But it is obviously going to be a difficult weekend and I feel sorry for a number of people who were due to be celebrating this weekend as the season comes to an end.
Simoncelli's team have decided to race now, which is the right thing to do, and there is no doubt that Marco would have wanted to get on with it if he was still here.
I've been more affected by his death than I have by anybody for a long time. We have moved into an era when thankfully deaths in grand prix racing are very rare but in my day they were a lot more common.
I had the misfortune to lose team-mates in my career.
Tom Herron was killed at the North West 200 in Northern Ireland, Mick Patrick died in a similar accident to Simoncelli when he was hit by another bike at Cadwell Park, while Pat Hennen crashed at the TT on the Isle of Man and was left in a coma. He survived but has been severely affected for the rest of his life.
So I know exactly how those racing on Sunday will feel about getting on with the job at hand.
But it is extraordinary that once you are on your motorcycle all you see is the track, the stopwatch and the chequered flag.
Marco was admired and liked throughout the world of motorsport and it was very nice to see how much respect he was given in Formula 1 in India last week, along of course with Dan Wheldon.
Elsewhere on the grid, Loris Capirossi retires after 22 years and was due to host a big party but I doubt that will go ahead now, as a dark cloud has descended on the whole paddock.
But it shouldn't be forgotten what a career he has had, with 328 race starts and 99 podiums, he has really spanned the ages since his debut in 1990. Let's hope he gets some recognition this weekend.
But he's hanging up his helmet still in one piece and that becomes even more important in the light of Marco's death. Another veteran, Colin Edwards, has said he will race on for at least another year but he will have had plenty of conversations with his wife and family about what to do.
Edwards is absent this weekend as he recovers from injuries sustained in the accident which killed Simoncelli, while Jorge Lorenzo will not race either so we are short of talent.
The final note to mention this weekend is that it is the last race of the 800cc era as we return to 1000cc engines next season. It won't be remembered as the greatest period for the sport and we all hope for some better racing on the new bikes, and some better news next season after a terrible few weeks for motorsport.
Valencia predictions: 1) Casey Stoner 2) Dani Pedrosa 3) Andrea Dovizioso