Steve Parrish's MotoGP column
Last updated on .From the section MotoGP
After 18 rounds, many thousands of air miles and plenty of litres of champagne, the MotoGP season is over, and we were certainly served up with a fitting finale in Valencia.
After an emotional weekend in which we all wondered if we should even be out on the track racing as we mourned the death of Marco Simoncelli, it was appropriate that the riders produced both a chaotic start and an amazing finish and that Casey Stoner came out on top at the end.
Stoner has had a stellar season on his Honda and deserves all the praise in the world.
Yes, it has been a shame that we have not seen a classic duel for the championship between him and , but it is not easy to dominate a season in grand prix racing and Stoner has been consistently fast all year long.
This weekend was difficult for anyone involved, but it is to the riders' credit that they managed to put on a spectacle which Simoncelli would have loved to be a part of.
The tribute to him at the start of the race was a lovely touch and proof that he made a big impression on everyone in the paddock. There can be no doubt that he was destined to be a huge star.
There were dedications to Simoncelli everywhere you turned. I bumped into one girl from England who had painted all her fingernails with his number 58 and just wanted to be part of remembering him.
Once we were underway, the four-rider melee at the first corner was further reminder of the dangers of the sport, but this time thankfully the riders emerged unharmed as a classic race unfolded.
At halfway it looked like another regulation win for Stoner but then the rain started coming down heavily and the fun really started.
Stoner was eight seconds ahead when the conditions changed - and there is no worse place to be on a motorcycle. It wasn't wet enough to come in and change to full wet tyres, and with differing levels of grip around each corner you just cannot see where the dry line is.
With no-one ahead of him to guide the way, Stoner had to slow down and the charging Ben Spies took advantage to move into the lead.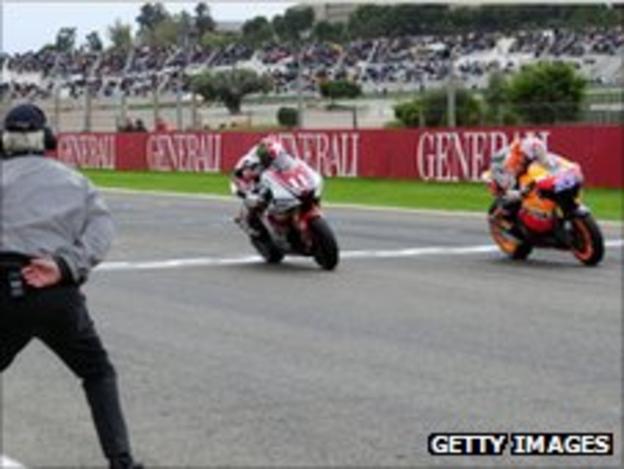 It was at that point of the race that we all thought of Simoncelli, who would have been a good bet to take his maiden win. He certainly wasn't lacking in bravery and you would have backed him to make the most of the difficult conditions.
As it was, it looked as if Spies had sewn it up before Stoner made an incredible comeback out of the last corner. I have no idea how he made up so much time, I can only assume that the traction control on Spies' Yamaha kicked in and stopped him from getting the drive he needed.
There was good news further down the field as Cal Crutchlow took fourth place to secure his status as rookie of the year. It's not been easy for Cal this season but he will have learned a lot and is in a good position for next year.
Next season we are changing bikes from 800cc to 1000cc so Cal will be on a level playing field for the first time. He knows all the tracks and while he is under pressure to perform in the final year of his contract with Tech3 Yamaha, he has it in him to be a success.
The 2012 season promises to be an exciting year as ever, with the tests in Valencia on Tuesday and Wednesday the first guide to how the riders may line up.
There will be many changes, but as we say goodbye to 2011 one thing for certain is that we will never forget Marco Simoncelli.