Alvaro Bautista replaces Marco Simoncelli at Team Gresini
Last updated on .From the section MotoGP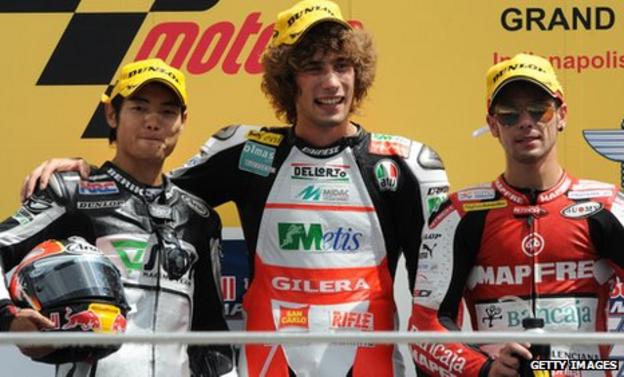 Suzuki rider Alvaro Bautista has been named as Marco Simoncelli's replacement at Team Gresini from next season.
"I am very sad to be leaving Suzuki after the two great years that I have had here," Bautista, 26, told the Suzuki team website.
"It has been a great team to work in and I have learnt a lot of things from everyone in the team."
The Spaniard added: "It was a fantastic experience working with an English-Japanese team and we have become like a big family, except we have never had any arguments and no-one falls out with each other.
"I want to thank everybody personally for the last two years, sometimes it has been difficult, but nobody ever gave up and I felt like I always had their full support and commitment."
Team manager Fausto Gresini is confident that Bautista will be a success for the team.
"He is a very fast rider and I also hold him in high regard for his personality," Gresini told gresiniracing.com.
"I am sure that he will integrate swiftly into our group and that we will enjoy some pleasant experiences together in the future."
Bautista, who has suffered two injury-hit seasons with Suzuki, has 16 grand prix victories to his name at 250cc and 125cc level but has yet to open his account in MotoGP.
The Spaniard won the 125cc World Championship in 2006 and challenged for the 250cc title from 2007-2009 until making the step up.
He joined Suzuki in 2010, scoring 85 points on his way to finishing 13th in the drivers' standings.
This year, he matched that finishing position with a score of 67 points, his best finish being fifth at the British Grand Prix in June.