Brits battle to make their mark
By Azi Farni
BBC pit-lane reporter
Last updated on .From the section MotoGP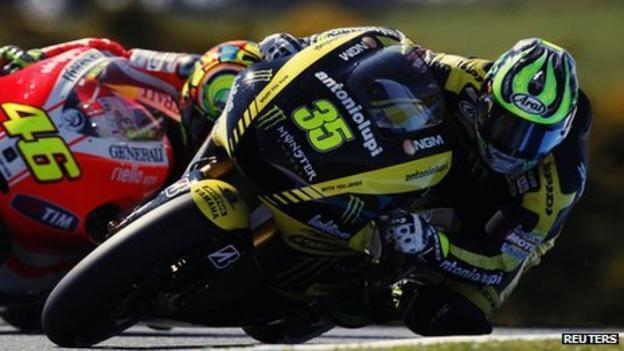 Suzuki's decision to pull out of MotoGP may not have been a surprise but it was certainly unwelcome at a time when the sport's governing bodies are doing everything they can to attract more bikes and teams to the grid.
One fewer manufacturer is bad enough but Suzuki's withdrawal is also a significant loss for British grand prix racing.
Though the bike was Japanese and the rider Spanish, they were the only British-based team in the premier class and an important presence amongst outfits based in Italy, Spain and France.
While the factory teams are under pressure to produce the millions of pounds needed to run a premier-class outfit, lower down the classes riders and teams can sometimes face a much harder struggle to survive on a fraction of that amount.
It's certainly no easy task. While the top MotoGP stars can be paid in six figures, most riders in the 125cc and Moto2 classes must beg, borrow and steal to scrape together the hundreds of thousands of pounds needed for a year-long ride.
Riders and teams will often run out of money before the season finishes, which is why we regularly see changes of personnel in the middle of a season.
The paddock can be a cruel world for young hopefuls. Riders and their families must learn and adapt quickly to the business and politics of MotoGP if they are going to sustain a career in the championship.
Unfortunately, talent alone is not always enough as, without good financial backing, it's hard to get an opportunity to display that talent. As in almost every walk of life, money talks.
One rider who has been busy working on his business skills over the winter period is 125cc rider Taylor Mackenzie.
After losing his main sponsors and potentially a ride for 2012, the 18-year-old Scot, son of former 500cc rider Niall Mackenzie, plans to sell sponsorship on his helmet for £100 per square centimetre to raise much-needed funds.
Mackenzie's 'MySquares' initiative is certainly a creative answer to the sponsorship problem, but the need for schemes such as these highlights just how hard it is to raise the finances for a ride in the world championship, especially for British riders.
This year, Spain and Italy started the season with 22 and 15 permanent entries respectively, making up 43% of the entire championship.
"It can be easier for Spanish and Italian riders as motorsport is a lot more popular over there," says Taylor. "I've contacted countless companies in the UK, but it's difficult to attract sponsors when companies aren't aware of what you do."
Though we still have a long way to go to match the likes of Spain in our entries, the future does look promising for Britain. This year saw the number of permanent British riders in MotoGP, Moto2 and 125cc more than double, with eight starting the season, the most since 1989.
And if Mackenzie's plan works, then we could see as many as 10 Brits in the three classes next year, with six entries already confirmed.
Danny Kent and Danny Webb will make the transition to the new Moto3 class with their respective 125cc teams. Kent will ride a factory KTM, while Webb will compete on the Mahinda MGP30 bike. After a fairly difficult debut season, Harry Stafford is still looking for enough sponsorship to get into Moto3.
In Moto2, Bradley Smith and Scott Redding are both contracted to the same teams for 2012, with Redding's Marc VDS switching chassis from Suter to Kalex, which has immediately yielded positive results for the 18-year-old in winter testing.
Kev Coghlan is currently seeking a return to Moto2 after losing his ride halfway through last year, while World Supersport rider Gino Rea seems close to signing with Gresini, after topping the timesheets on their Moriwaki on the last day of the Valencia test.
In the premier class, Cal Crutchlow will start the second season of his two-year deal with Tech 3, while former MotoGP rider James Ellison will switch from British Superbikes to join Paul Bird's Claiming Rules Team (CRT).
If CRTs fulfil the vision of becoming the future of grand prix racing, then it could open the way for a bigger British presence on the premier stage, with manufacturers such as Norton perhaps on the grid in years to come.
But there is a great need for more British riders and teams in the lower classes.
The Red Bull Rookies Cup, offering a paid season on KTM bikes at world championship circuits, is a great stepping stone to MotoGP, as the likes of Kent, now in a Red Bull-sponsored factory Moto3 team, can testify to.
Hopefully, the creation of Moto3, designed to be a cheaper alternative to 125cc, will lead to teams cutting their costs and therefore demanding less money from riders, which in turn will make it a more affordable entry-level platform for British riders.
Nothing is more effective than success, though.
In Spain, the success of such riders as Jorge Lorenzo, Dani Pedrosa, Marc Marquez and now Maverick Viñales ensures Spanish talent keeps getting the backing it needs to keep producing future world champions.
In Britain, we are still awaiting the kind of performances and results that will unlock the doors of sponsorship to young talent.
While British success in 500cc/MotoGP is second only to Italy in terms of number of championships won, you would have to go all the way back to 1977, when Barry Sheene rode his Suzuki to the 500cc title, for their last taste of premier-class glory.
Racing has changed a lot since then and so have the costs. With money and sponsorship the way it is, riders like Mackenzie may not only be the future of racing on the track but his "MySquares" initiative might be the future off it as well.
At least until we have a new British world champion.