Michael Laverty relishes his new challenge with Honda
Last updated on .From the section MotoGP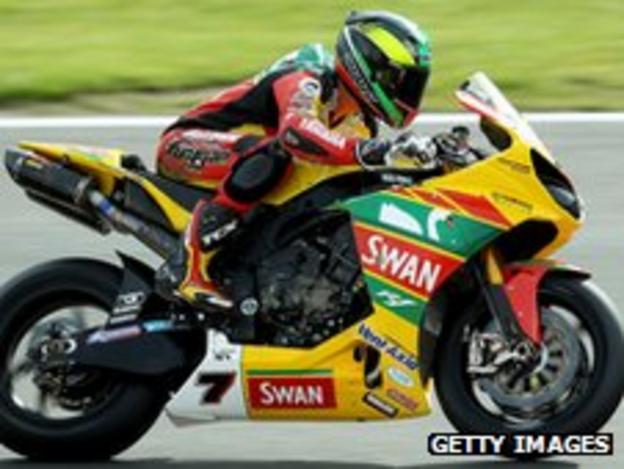 British Superbikes rider Michael Laverty says his move to Honda is the right one at this stage of his career.
Laverty told BBC Hereford and Worcester it had been a difficult decision to leave the Swan Yamaha team.
"At first I figured loyalty and a bit of continuity with the Yamaha team would have been good," he said.
"But next year the rules change quite a bit and I believe those changes will suit the Honda better than the Yamaha so I was leaning towards the Honda."
Laverty, 30, won three rounds of the 2011 British Superbikes Championship and achieved five other podium finishes.
The Ulsterman, who now lives at Kinsham in north Herefordshire, appreciates the pressure will be on next season when he will be the number one rider with a team widely tipped to win the Championship.
"Some people don't like that pressure but I want it because I put that expectation on myself so it's nice the team has that same mindset," he said.
"The team expects me to win and Honda has a good history of winning the title as they have won it three times in the last four years.
"They have lost it to my old team from last year so hopefully I can bring it back to the Honda fold for 2012," he added.
While he has nothing but fond memories of his time with Swan Yamaha, the move to Honda UK represents the fulfilment of a childhood ambition.
"As a kid growing up I always wanted to be part of that team and a lot of my heroes raced for that team," he said.
"When I weighed it all up there were a lot of positives for the Honda side of things.
"I am sad to leave the Swan Yamaha team but at the same time I am excited to be joining the Honda UK team and I am really looking forward to next season now."