Former MotoGP champion Nicky Hayden breaks ribs in training crash
Last updated on .From the section MotoGP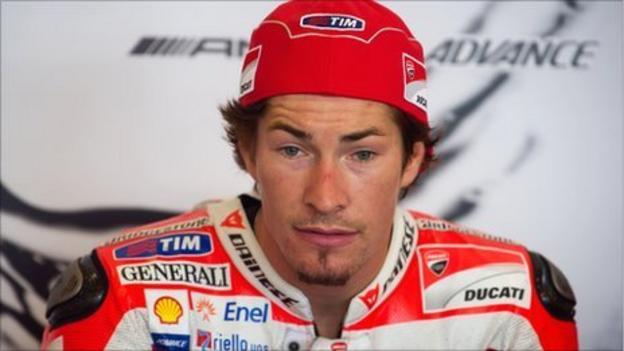 Former MotoGP world champion Nicky Hayden has broken two ribs and a shoulder blade during a training accident in Kentucky.
The American suffered the injuries near his home in Owensboro and has since had x-rays, a CAT scan and an MRI.
Ducati confirmed that no surgery has been scheduled but that the 30-year-old rider would have the fractures assessed in California next week.
"Injuries are never good but it's part of motorcycle racing," Hayden said.
"I was starting to train again, like I normally do during the winter, at a private track near my house. I came up behind another rider, and he went to move out of the way.
"I wasn't going that fast, but he clipped my front wheel and I went down and landed pretty hard on my left shoulder, and that was it."
Hayden, who became MotoGP world champion in 2006, had been training for the first time since in November.
The first race of the new season will take place at the desert circuit of Losail in Qatar on 8 April 2012.