Azi Farni Moto GP column: Ducati keep GP12 under wraps
By Azi Farni
BBC pit-lane reporter
Last updated on .From the section MotoGP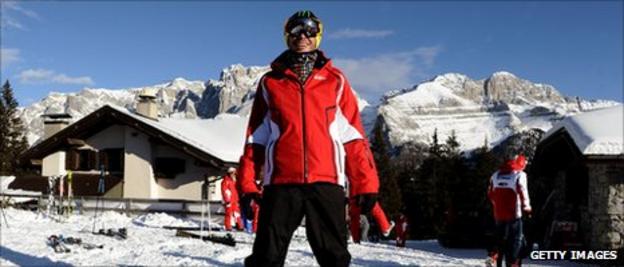 The annual Wrooom event, held at Madonna di Campiglio in north east Italy, is usually the MotoGP media's first glimpse of Ducati's new bike and riders, set against a glorious backdrop of snow, ski and mountains.
The atmosphere at last year's event was charged with anticipation as journalists and fans waited to see Valentino Rossi in Ducati red for the first time.
This week was less about the nine-time world champion and more about the GP12 - the product of a year of tireless work by both sides of the Ducati garage and Ducati Corse general manager Filippo Preziosi.
But even as team and riders were fielding questions about their thoughts on the GP12, the bike was still being built, with both Rossi and Hayden's teams at the Bologna factory working to assemble the eagerly awaited machine.
With no bike to show the media, there were plenty of questions for Preziosi, whose description of developments to the GP12 in the hour-long press conference nevertheless gave nothing much away.
"We have analysed the data and the comments from the tests to understand the mean/medium configuration of the bike. With the new mean parameters we added a new adjustment range," was a typical insight.
What Preziosi would say was that the GP12 retains the conventional twin-spar aluminium frame with carbon swingarm seen at the end of 2011, with the complete carbon-fibre chassis seemingly gone for good.
While the new bike will look "deceptively" like the GP0 - the "experimental bike" rolled out at the Valencia test last November - under the fairing it is "90% new", with changes to the chassis, tank, seat support, engine castings and swingarm.
That Valentino finished that test 1.5 seconds off the top, an improvement of only 0.06 seconds from his first ride on the bike at 2010's Valencia test, didn't necessarily tell the story of the progress of the Desmosedici through the season - but neither can it be ignored.
Ducati played down the gap at the time, focusing on the vital information gathered, but the faces of the team as they were packing up the boxes said it all.
What is certain is that Ducati can suffer neither further tests like that, nor another season like 2011.
So how will 2012 be different?
At Wrooom, Preziosi was clear there would be no fundamental changes to the bike during the year, something we saw frequently in 2011; the GP12 will be the base bike. While the team are "working on some future developments to introduce during the winter tests and during the first races of the season", these developments will not amount to a GP12.1.
This puts a lot of pressure on the bike that is unveiled in Sepang in just under three weeks' time.
Valentino had seen designs for the new bike, saying "it seems very, very nice", but both he and Preziosi were keen to play down the possibility of spectacular immediate results, with Rossi saying "the bike will be different compared to last year, so it is impossible to be competitive from the first test but I think we will have some good information to work and be ready for the first race."
Different bike or not, if the gap to the front is not reduced significantly before the start of the season some serious questions will be posed.
A team with two world champions who only achieved one rostrum finish each in 2011 is not a good advert for the bike they are riding.
Preziosi said this week: "Ducati participates in races to promote our brand and you do this by getting good results. With the presence of a winning rider one expects always to have victories. But it's pushed Ducati to take courageous decisions."
But if those courageous decisions do not pay off, it could have huge implications beyond 2012.
With all the factory riders' contracts up in 2012, Rossi realises "the cards will be reshuffled a bit" and when asked about a possible return to a Japanese bike his answer did not exactly close the door on that prospect.
"It's not very likely, but who knows?" he said. "Not that I can say today that it's impossible. But we started with this project and at least we would like to become competitive and we would like to win something."
Ducati will do everything they can to hold on to Valentino after 2012 to see this project through and it is unlikely they will have much competition from the other factories.
Honda have nothing to gain from antagonising world champion Casey Stoner by inviting his biggest rival to try to beat him on the same bike, and Yamaha already made their choice clear when Rossi forced them to choose between him and Jorge Lorenzo.
If Rossi does stay though, failure could be damaging beyond repair.
Having revealed that he may stop racing after 2014, it is now clear that Rossi's Ducati legacy will never match what he achieved with Honda or Yamaha, but as Preziosi explained:
"We didn't get Valentino because we thought he would solve our problems; we thought that with his experience, having won on different bikes, he could give us important information to develop a more competitive bike."
Rossi himself realises, as well as anyone, the point he has reached in his career.
"Now the situation is very different - it is a not problem [with] Ducati it is a problem [with] me, also because my rivals are very strong. They are younger and stronger than in the past and now it is difficult for me to make a difference.
"What has changed is normal and you can't compare different eras. I am older and I come from a previous generation. But I still have the drive and I think I can be extremely competitive."
While it may not bring a world title, Rossi's legacy at Ducati will need to be the evolution of the Desmosedici into a race-winning bike with optimum rideability.
Preziosi is keen to stress that "this is not going to be Valentino's bike; he tells designers how the bike behaves, based on experience of previous bikes but the bike he will be racing is Ducati's bike."
But what he does with that bike could well determine the course of the Italian factory's future.