Moto GP: Jorge Lorenzo wants to cut new bikes' speed
Last updated on .From the section MotoGP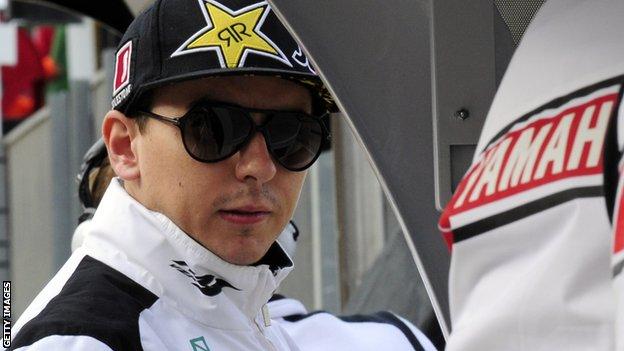 Former world champion Jorge Lorenzo wants the top speed of the sport's new bikes to be cut by MotoGP organisers to protect riders' safety.
The 1,000cc bikes generally prompted a warm reception following testing at Malaysia's Sepang circuit, where Marco Simoncelli died in October.
But Lorenzo, the 2010 world champion with Yamaha, admitted: "I am not happy with the top speed.
"We need to reduce it if we want to make it in the safe category."
World champion Casey Stoner easily beat Valentino Rossi's 2009 track record, set on an 800cc bike, by nearly a second on Thursday. But his time of 1min 59.607sec will not stand as a new mark because it was set out of competition.
Seven-time world champion Rossi played down any safety concerns about the bikes, which can hit 320kph (198mph) along straights. "We can slide and the bike becomes more fun," he said.
"I like the 1,000cc. This type of engine has better torque and better driveability. For me... the speed will be impressive and I don't think it will be more dangerous."
Mike Webb, race director with motorcycle racing's governing body FIM, said transmissions are smoother on the larger engines. That makes it easier to shift up or down in gear, leading to "less accidents".
Webb, who believes "there is no such thing as 100% safety", added: "We are very happy with the level of safety and the chances of something going wrong is very, very low now.
"We are at the dawn of the 1,000cc (era). The riders enjoy the bike. The spectators will surely enjoy the race a lot more and they will be safer and easier to ride."
Dani Pedrosa, who races for Honda, complained about some issues with chatter - vibrations caused by hard braking.
He said: "You go into the corner and the bike is chattering. Chatter is something very difficult to fix. Surely they (Honda) are on it."
The top engine category in MotoGP increased from 500cc to 990cc in 2002, but was reduced to 800cc in 2007 in a bid to reduce costs and cornering speeds.