Ducati's MotoGP rider Nicky Hayden has successful surgery on shoulder injury
Last updated on .From the section MotoGP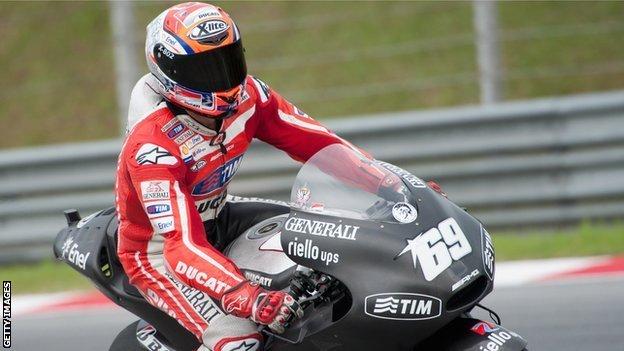 Former MotoGP world champion Nicky Hayden has had successful shoulder surgery after a weakness was revealed in winter testing.
The Ducati rider left a recent pre-season event in Sepang early to head for medical tests in his native USA.
The scans revealed damage to cartilage in his left shoulder and muscles in his back after a training accident.
Hayden said: "The problem should be fixed now and I look forward to being able to help out as soon as possible."
Hayden underwent a 40-minute procedure in California and has returned home to begin his recovery.
"It's a setback, but all things considered I'm pretty happy with how it went," he said.
"The pain's not too bad."
The latest news continues an injury-strewn previous few months for the 2006 title winner.
He broke his wrist in the Valencia Grand Prix in November and shattered two ribs and a shoulder blade during a training accident in Kentucky shortly after Christmas.
The first race of the new season will take place at the desert circuit of Losail in Qatar on 8 April 2012.