Speedway: Ipswich Witches concerned by lack of Brits
Last updated on .From the section MotoGP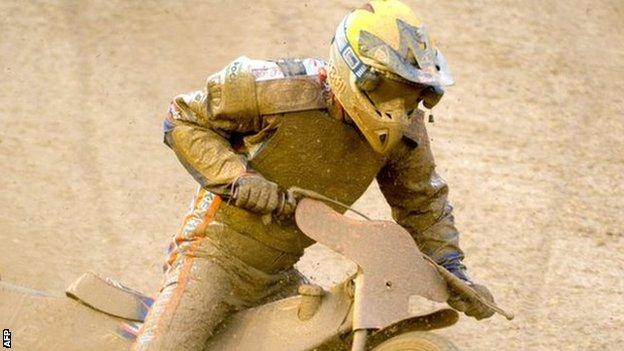 Ipswich Witches director of speedway Chris Louis has admitted the club needs to address its lack of British talent as swiftly as possible.
The Foxhall outfit will start the 2012 campaign with five Australians, a Dane and a Frenchman.
But Louis hopes the Witches' feeder team at Mildenhall will supply homegrown talent in the years to come.
"It is a very sad state of affairs and it's why I'm involved at Mildenhall," he told BBC Radio Suffolk.
"It's a situation we need to change and do it as quickly as we can."
Young Australian signings Cameron Heeps and Rohan Tungate have arrived with burgeoning reputations to take the club's reserve spots.
Heeps, 16, recorded an impressive 10-point average in the National League last season with Mildenhall Tigers, who he will double-up for this campaign.
And 22-year-old Tungate is continuing his speedway development after winning Australian titles in long track and dirt track.
"I don't want to put pressure on any of the new lads," said Louis.
"We can't expect too much from them, they're an extremely inexperienced pairing at reserve but full of potential.
"If they can start to realise that potential through the season we'll be happy.
"We started as favourites last year. People have been a little more cautious with us this year.
"We're still favourites in one or two quarters. It's not a tag I particularly like to go into any season with. Joint-second place last year wasn't a disaster, Glasgow were an exceptional side.
"But this year there's a play-off system in place and had that been there last year I feel we would have been champions."