MotoGP vs F1: Two wheels good, four wheels better?
Last updated on .From the section MotoGP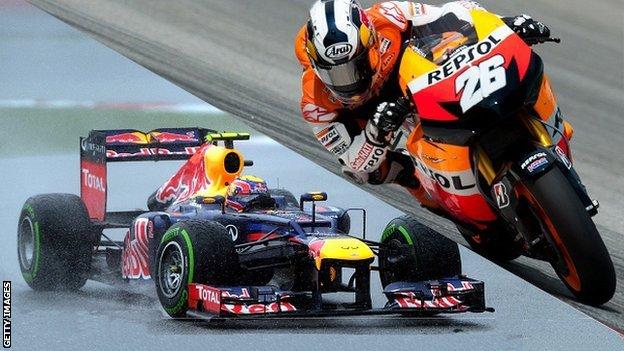 The MotoGP season gets under way in the desert of Qatar this weekend, with defending champion Casey Stoner again looking the man to beat.
His Repsol Honda bike cost the best part of £1m to develop and make, and can reach speeds of 220mph from its one-litre engine.
All this from a machine that only weighs around two stone more than heavyweight boxer Nikolay Valuev - the Russian giant beaten by David Haye in 2009.
But how do the bikes competing in MotoGP this season shape up when compared with the top cars in Formula 1?
BBC Sport asked the experts to look at Stoner's Honda and F1 champion Sebastian Vettel's Red Bull Renault and compare the two.
Neil Spalding, MotoGP technical journalist:
"Both vehicles have got their problems.
"A car has big wings to help it through the corners, but they slow it down on the straights. Bikes don't have any wings so they don't have anything like the grip in the corners.
"The snag with the acceleration of a motorbike is that it has a tremendous desire to wheelie and flip backwards.
"We're flying on the ground. We're like light aircraft - we bank into corners, the front dives down under braking, the back dives down under acceleration.
"The brakes on a MotoGP bike are excellent - with a braking force at 1.1 and 1.2g - but nothing like as good as an F1 car which obviously has four wheels and four brake discs.
"This year we have bigger engines and because they will accelerate better you get a higher top speed. But anything you do to maximise top speed affects you through the corners.
"The guy who wins the world championship has the bike with the best balance between everything. Absolutely everything is a compromise.
"F1 is more extreme. We've got far more bodges in our basic design whereas an F1 car is much more of an engineering exercise. Even Honda don't design their racing bikes on a computer yet. So much of it is feeling and attitude.
"When the riders are on full lean, banked over at 60 degrees, the total amount of rubber in contact with the track is less than a couple of credit cards, and he's got 250 horsepower underneath him.
"He needs to add very slightly to the power he's already using, and if he gets too much then it will slide or throw him off. We have to have perfect control of the engine at all revs, and that's much more important than sheer horsepower.
"If you can do that, you've cracked the sport."
BBC F1 technical analyst Gary Anderson:
"Formula 1 is a very different discipline to MotoGP.
"First of all, the tyre contact patch is much bigger allowing much higher braking, corner and traction forces.
"At 200mph, an F1 car will produce around two tonnes of aerodynamic downforce, and with such high loads it is very important that this downforce is distributed around the car consistently.
"As with MotoGP, F1 cars are thoroughbreds built within the regulations to produce the fastest lap time possible, and every team looks for the grey area in the regulations to try to eke out that little bit of extra performance.
"With a power-to-weight ratio (including KERS) of around 1.4bhp/kg or 1400bhp per tonne, F1 cars are mean machines.
"As a reference, this is around 15 times the power-to-weight ratio of an average reasonable performance small car."