MotoGP 2012: Steve Parrish examines the title contenders

By Steve Parrish
BBC motorcycling commentator
Last updated on .From the section MotoGP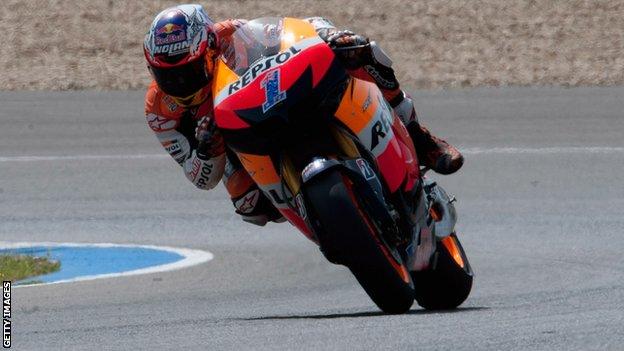 Casey Stoner claimed the 2011 MotoGP championship at a canter.
The 26-year-old won 10 races on his Repsol Honda to storm to his second title, and he will start the new campaign in Qatar as favourite to make it three championships in six years.
Stoner has got the most amazing balance and pure ability to ride a motorcycle. I spent a lot of time at the out at the trackside watching him up close.
He pushes himself more than anyone else. He is so driven. He uses more track, more kerb, more lean angle than anyone else out there at the moment. As the saying goes, he rides it like he stole it.
He absolutely brings everything out of the bike and out of himself. He is very hard on himself as well - he beats himself up about any mistake he makes.
Stoner has this reputation for being a bit dull and cold but that's not the case at all. He is very lively; he's a smiley, cheeky young man at heart.
But he does say what he thinks - maybe that's the Australian in him - and that can rub people up the wrong way.
I have a huge amount of respect for him because of his skill at riding a motorcycle - but he won't have it all his own way, there are others out to stop him.
Jorge Lorenzo
The 2010 champion is an intelligent man, he analyses and thinks a great deal about what is going on.
The way I see this championship is a hare and a tortoise type situation. Jorge could be the tortoise as I think he will be very, very solid this year. He won't win as many races as Casey, but he will amass a lot of points. The Yamaha looks to have made a step forward.
Watching him at Jerez, Jorge didn't look anything like the second fastest man out there. He looked very smooth, very calculated.
That always bodes well as it didn't look like he was on the limit. He keeps squeezing the best out of everything he's got.
Lorenzo's team-mate Ben Spies thinks he has the pace to challenge at the very front, but I haven't seen it from him yet. He has to win races this year, he has been told that by his bosses, and at the very least he needs to be on the podium week-in, week out.
The problem he has there is that he has to finish above one of the other three main runners, which won't be easy.
Dani Pedrosa
Little Dani has an abundance of everything. He has spirit in his riding, speed, talent - he has all the ingredients to be World Champion.
My only concern is that he is so fragile. Not mentally, it's physical because of his size. He's only about 5ft 2ins tall and eight stone.
In many ways that has helped him throughout his career as he is so much lighter than some of the other riders, but he doesn't bounce as well as them if he does come off and has
The move to the 1,000s will affect him more than the other riders as the extra weight is more of an issue, but I always see Dani winning a few races. When he wakes up in the right mood and everything is running smoothly for him he is as fast as anyone.
Valentino Rossi
I'm still very worried about Valentino Rossi. Something's not gelling, and I'm not too sure whether it's the bike or him.
No-one ever wants to point the finger at Valentino Rossi but I don't think he's the rider he was three years ago. It's hard to keep the drive and the fire in your belly which you have when you are younger. He's now 33-years-old and I wonder if he still wants it.
He broke his leg badly two years ago, he had lots of crashes last year and it affects you. I went through it in my own career. I started off blaming the tyres, then the bike, then the mechanics and everything but myself. It's hard because when you do start doubting yourself it snowballs, but sooner or later you have to confront it and that's the best time to retire.
The Ducati is nearer this year, they've fine tuned it to suit Rossi but I'll be very surprised if he is on the podium this year which is a real shame. There's no bigger fan than me, he's been so good for the sport but I'm nearly embarrassed for him now.
I don't think he'll be mixing it with the front guys and he should be because he is in that class. His wings have been clipped. He's not the same Rossi we've all loved and admired over the last 15 years.
Some of the things that he did were remarkable, he had that incredible ability to drag results out when you thought he was finished. He came back stronger and better time and again but I'm not sure he can ever do that again.