MotoGP: Steve Parrish's column on Cal Crutchlow in Qatar

By Steve Parrish
BBC motorcycling commentator
Last updated on .From the section MotoGP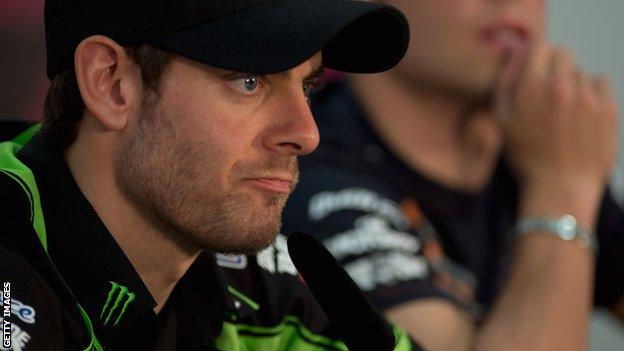 What a cracking start to the MotoGP season under the floodlights in Qatar - and what a performance from Cal Crutchlow.
but Crutchlow's fourth was as good a ride from him as I've seen in any class of racing.
He is up against the very best motorcycle racers in the world and he only finished behind the top three riders, who are all paid millions of pounds a year.
It was a superb performance but to convert that into a fourth in the race is as good as anyone could realistically expect him to do.
It was a copybook performance. He looks like he has learned a lot from his first season last year, he comes across as more mature now and he beat his team-mate Andrea Dovizioso here - a guy who was third in the world championship last season.
It was looking a familiar tale for a while as world champion Casey Stoner took the lead, but it is good for the championship that he didn't sprint off and win it again. I thought he lost the pace at the end because he had worn his tyres out, but it was actually arm pump.
Arm pump is a plague for motorbike riders, it is like cramp and it affects different people at different times. These guys all have massive forearms, you need to to stop these bikes from 210mph, and sometimes the muscle gets too big for the sack that it sits in.
After 22 laps of stopping at those speeds, the pressure can build up and that's when you get arm pump. It's agony and it can stop you from riding properly. If you can't close your fist then you can't use the brakes and Stoner said that he was struggling to hold on at the end of that race.
Some people have surgery to cut away the muscle, but Stoner won't have time to do that before the next race in a fortnight. He will, however, have physio to try and stretch it out, as it cost him points here.
It was also the first race we have had with the new Claiming Rule Teams in (CRT) - and they did not disgrace themselves.
CRT bikes remain largely prototypes, albeit currently with tuned Superbike engines.
Colin Edwards was only 1.2 seconds behind Ben Spies's Yamaha at the end of the race, and when you consider that Spies is racing a £1m factory prototype, and Edwards is on a bike that basically cost about £80,000, that is no mean feat.
It was also the first race in the Moto3 class and that proved to be excellent entertainment.
All in all there was so much to enjoy and it bodes well for a fine season. See you all in Jerez.
Steve Parrish was talking to BBC Sport's Tom Rostance