MotoGP: Cal Crutchlow eyes podium after finding confidence
Last updated on .From the section MotoGP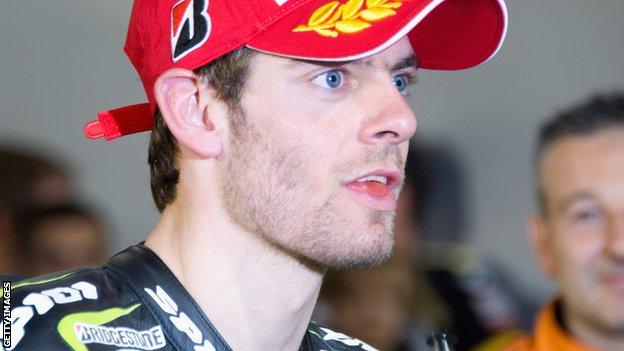 British MotoGP rider Cal Crutchlow has put his strong start to the season down to the return of his confidence.
Crutchlow was consistently fast during winter testing and qualified a career-best third in Qatar earlier this month.
He followed that up by finishing fourth in the race and is targeting a podium finish this season.
He said: "I'd like to think a podium is possible this season. I needed to regroup and get my confidence back and I've got it back now."
Crutchlow, 26, enjoyed an up-and-down debut season in MotoGP last year which saw him record a fourth-placed finish at the last race of the season in Valencia, but also miss his home race at Silverstone with a broken collarbone after crashing during qualifying.
This year's switch to 1,000cc engines has helped the former World Superbike rider, and Crutchlow believes he is back to his best as he looks to become the first British rider to step on to the MotoGP podium in 12 years.
"I'm a lot calmer this year," he said.
"Last year was tough because I started the year so well, and then in the middle of the year it was just a disaster.
"But I know when I'm at the top of my game, when I won World SuperSport, was winning World Superbike races and was the fastest guy out there, I felt it was all about confidence and I never had it at the end of last year.
"That was a big wake up call for me. It's not confidence in a cocky or arrogant way, just confidence as in knowing that I can do it and I feel I've got that back again now."
British motorcycling has had a long wait for success in the premier class of grand prix racing, with Jeremy McWilliams's third place at Donington in 2000 the last podium, while the last race winner was the late Barry Sheene in Sweden way back in 1981.
Crutchlow could be the man to end that wait, and he is hopeful success could boost the popularity of the sport in Britain.
"I had something like 2,500 messages on my Twitter account after the race in Qatar. The British crowd are great," he said.
"When I won in World SuperSport and World Superbike in Britain, the crowd were phenomenal and they always back you but the problem is that sometimes they're the first ones to jump on you if you don't do very well, which is difficult.
"But the thing is we don't have the Spanish and Italian history of winning, because we're not brought up on grand prix bikes.
"But when it comes it will be good because it's been a long time waiting. I'm not saying that I'm going to get on the podium, but I hope so - for the British fans as much as myself."